Focus on Sound is a MusicFirst company
- part of the multinational Music Sales group.
Author
The programs have been written by Dr Simon Foxall, a senior examiner for Edexcel. For the exam board he writes teacher support material as well as running courses for teachers both in the UK and abroad. He has also examined for the OCR board and has many years of experience as a secondary school head of music.
His PhD research was on the use of computers in testing music and linguistic ability.
Developers and consultants
HTML5 conversion, website design and advertising: Ben Vallack (Phototropic)
Portal, database and server programming: Tom Ford, Kris Sum and Jay Bush (Switch Systems)
Database, server and music score programming: Julian Foxall
Business Development Manager for Silverlight version: Nick Kilby (Starland)
Videos: Dez Minto (Broadwater Studios), Jonas Persson (Music Sales), Nick Gordon
Jazz/rock consultancy and composition: Dave Bowen
Consultant (brass): Brian Moore
Consultant (world percussion): Steve Crossen
Naxos licensing: Graham Bartholomew
Chandos licensing: Sue Revill
Euroarts licensing: Rudi Gaudron
Audite licensing: Ludger Böckenhoff
Performers
It has been an editorial policy to ensure that many of the photos and videos feature young performers. Musicians on the specially commissioned videos are young professional players mainly in their twenties and thirties.
Artists featuring on the Euroarts videos include The European Chamber Orchestra, the Freiburg Baroque Orchestra, the Venezuelan Brass Ensemble and the world-renowned organist and conductor Ton Koopman.
The hundreds of audio recordings include artists of the calibre of Willard White, singing Swing Low Sweet Chariot to demonstrate the bass voice.
Commissioned Videos
Accordion: Aidan Shepherd
African drums: Sam Yeboah
Balafon: Alphonse Touna
Bass guitar, double bass, tuba: Sean Davey
Brazilian percussion: Adriano Adewale
Clarinets: Alison Turriff
Classical guitar: Sam Cave
Drum kit: Ian Evans
Flute: Charlotte Bettle
Folk guitar: Alex Bishop
Folk violin, mandolin and tenor banjo: Tom Newell
French horn, alto/tenor horn: Sam Pearce
Jazz/rock guitar: Jesse Molins
Jazz Trumpet: Corben Lee
Oboe, cor anglais: Uchenna Ngwe
Percussion: Ed Scull
Saxophones: Ben Lowman
Sitar: Mehboob Nadeem
Tabla: Sanju Sahai
Trombones, euphonium: Adrian Cleverley
Trumpet, Baroque trumpet, cornet, flugelhorn: Ellie Lovegrove
Violin: Jane Gordon
Featured artist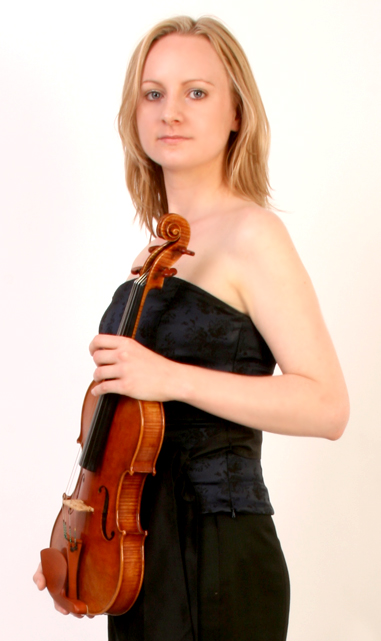 Jane Gordon
Jane plays violin for our videos, including demonstrations of numerous string techniques. She is a highly versatile violinist, accomplished as a soloist and chamber musician. Her Purcell Room solo debut in 2004 received great critical acclaim and she has given recitals at the Wigmore Hall, Bridgewater Hall, Martinu Hall in Prague, Edinburgh Festival (ROSL) and the Stradivarius Festival in Cremona.
Jane was concertmaster for Trevor Pinnock's EBE Orchestra at the 2009 Halle Handel Festival in Germany, and in 2011 toured in 'Trevor Pinnock & Friends' concerts in France, Holland, Germany and UK, including at the Wigmore Hall and a live BBC Radio 3 broadcast. In 2010 Jane was concertmaster at Korean National Opera in Seoul with the Retrospect Ensemble. Jane regularly works with many leading period instrument ensembles, including the OAE, Sixteen and Academy of Ancient Music. She has also performed with some of the UK's finest small ensembles, Aurora Orchestra, Scottish Ensemble and Ensemble 360 and regularly plays IMS Prussia Cove Open Chamber Music Festival. In Autumn 2011 she performed with English National Opera at the Coliseum.
In 2004/5 Jane won several awards, including the First Prize in the Anglo-Czechoslovak International Competition, string finalist and prize winner of the Royal Over-Seas League Competition, English Speaking Union IMS Prussia Cove Scholarship, and was selected for the Park Lane Young Artist Platform. Jane was a prize-winning scholar at the Royal College of Music with Dona Lee Croft and Mica Comberti (baroque violin) and completed her studies at the Royal Academy of Music with Marianne Thorsen and Simon Standage (baroque), graduating with the Marjorie Hayward Prize, the Beare Violin Prize, and the DipRAM, winning the highest violin award in her year.