(0)20 3929 9046 (sales only)
Focus on Sound
Music education software in the Cloud

This really is an amazing resource that is easy to navigate. My students love it. Amazing value for money. A must for any busy music teacher - Trish Parrans-Smith, King Edward VI Aston School UK
Your technical support is outstanding - Kath Millward Y Pant School UK
NEW - Integration with Google Classroom and Microsoft Teams. More here.
Develop listening skills, theory, composing and musical knowledge with online resources for PCs, tablets and smartphones.
Study in school or use as the perfect homework option.
UK version features full coverage of GCSE set works and topics as well as extensive resources for KS3, A level and the Scottish curriculum.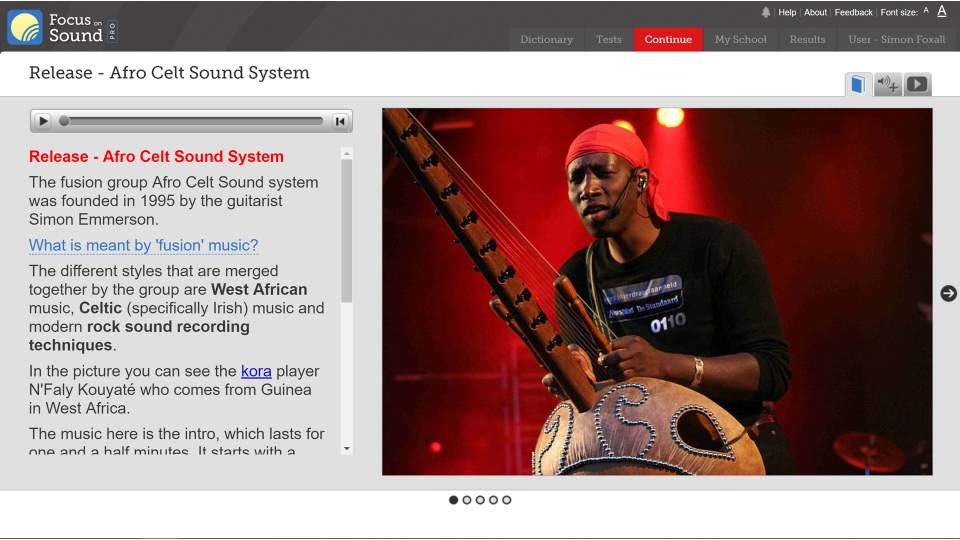 Manwaring Music Education blog - James Manwaring, Windsor Boys School
One of the best things I have invested in over the last two years is Focus on Sound. This online resource from MusicFirst is a must have for any music department.
It isn't expensive, it is easy to use and there is amazing support out there. I would go for the Pro version.
Multimedia encyclopedia of instruments, terms, composers, technology and theory - with listening tests, study pieces, composing tasks and lessons
For individual or school use. Graded for age 9-18
Instant access to hundreds of videos, lessons, tests, quizzes, photos, recordings, music scores and YouTube links
Hundreds of auto-marked listening tests
Teachers access test and quiz results for whole classes in 'real time'
Works on almost anything connected to the internet
Special layouts for phones and tablets
Exceptional resources for exam boards, especially UK GCSE
12 years in development
Written by expert teachers with a large team of young professional performers
Used in 20+ countries
Choose UK or US terminology and spelling
Updated every week
A product from MusicFirst - part of the international media organisation Wise Music Group
Focus on Sound does a fantastic job making a long-held dream a reality - Five stars - John Kelleher, Music Teacher magazine
You have a fantastic product that is a one of a kind. I couldn't do without it (without a lot of work....) - Corin Bone, Glenunga International High School.
Thanks again for this fantastic resource - David Breingan, Queen Victoria School
An absolute bargain - Keith Price, New English School, Kuwait
Set your own lessons, tests, quizzes and content in FoS Pro. Set tasks for individual classes or groups of classes.
See our product specially aimed at students from 6-10 and 11-12: Instruments First
The videos are particularly aimed at the content relating to UK schools, as well as international schools following UK courses
Instruments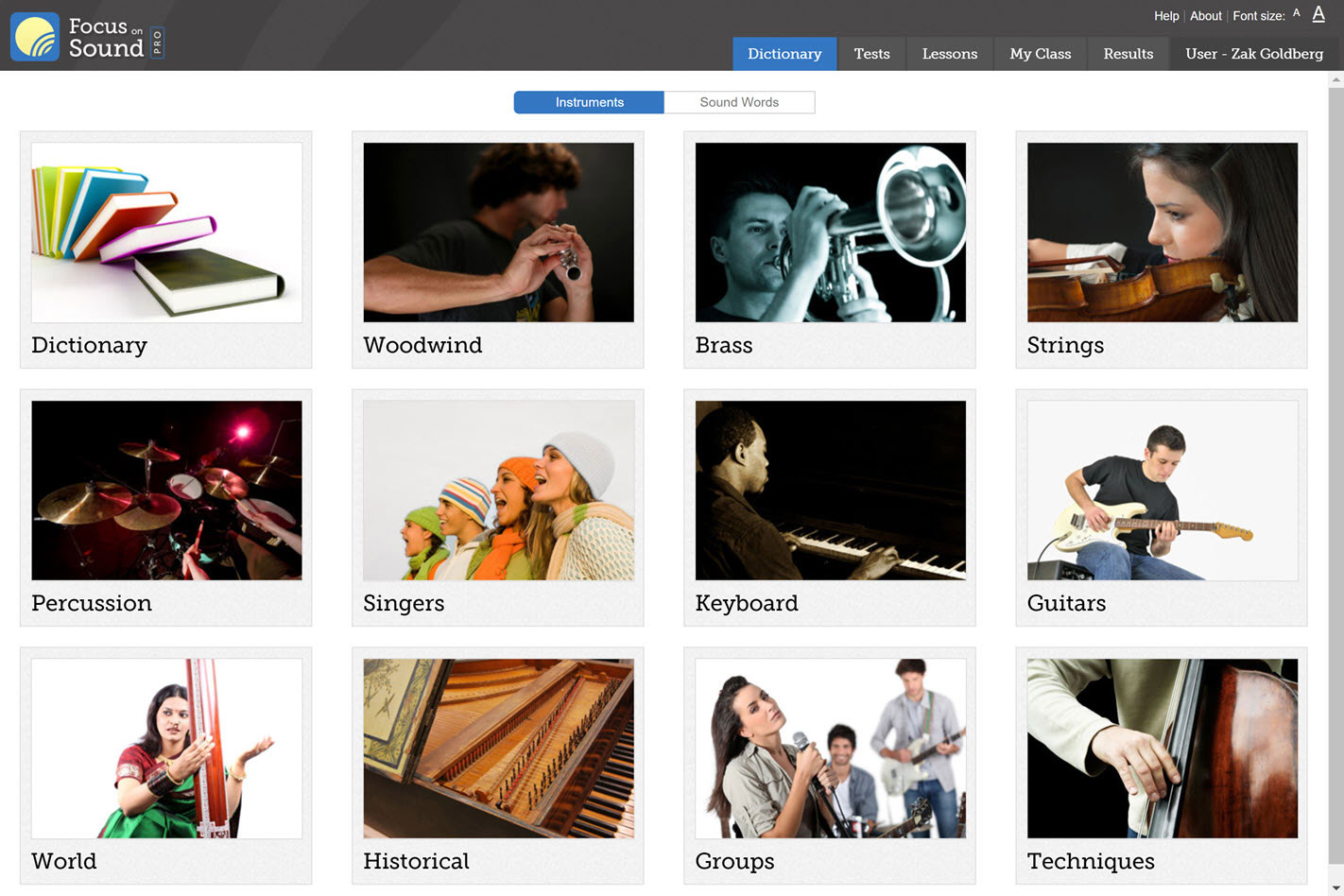 Above is the main topic screen of the Instruments app. The app introduces around 200 instruments and groups in topic areas.
A marvellous, affordable, and user-friendly listening resource. Pupils find it easily accessible via mobile, tablet or PC at any time of day (or night, if set homework tasks). I would warmly recommend this excellent software to all departments. - John McGonigle, Director of Music, Dollar Academy, Scotland
Sound Words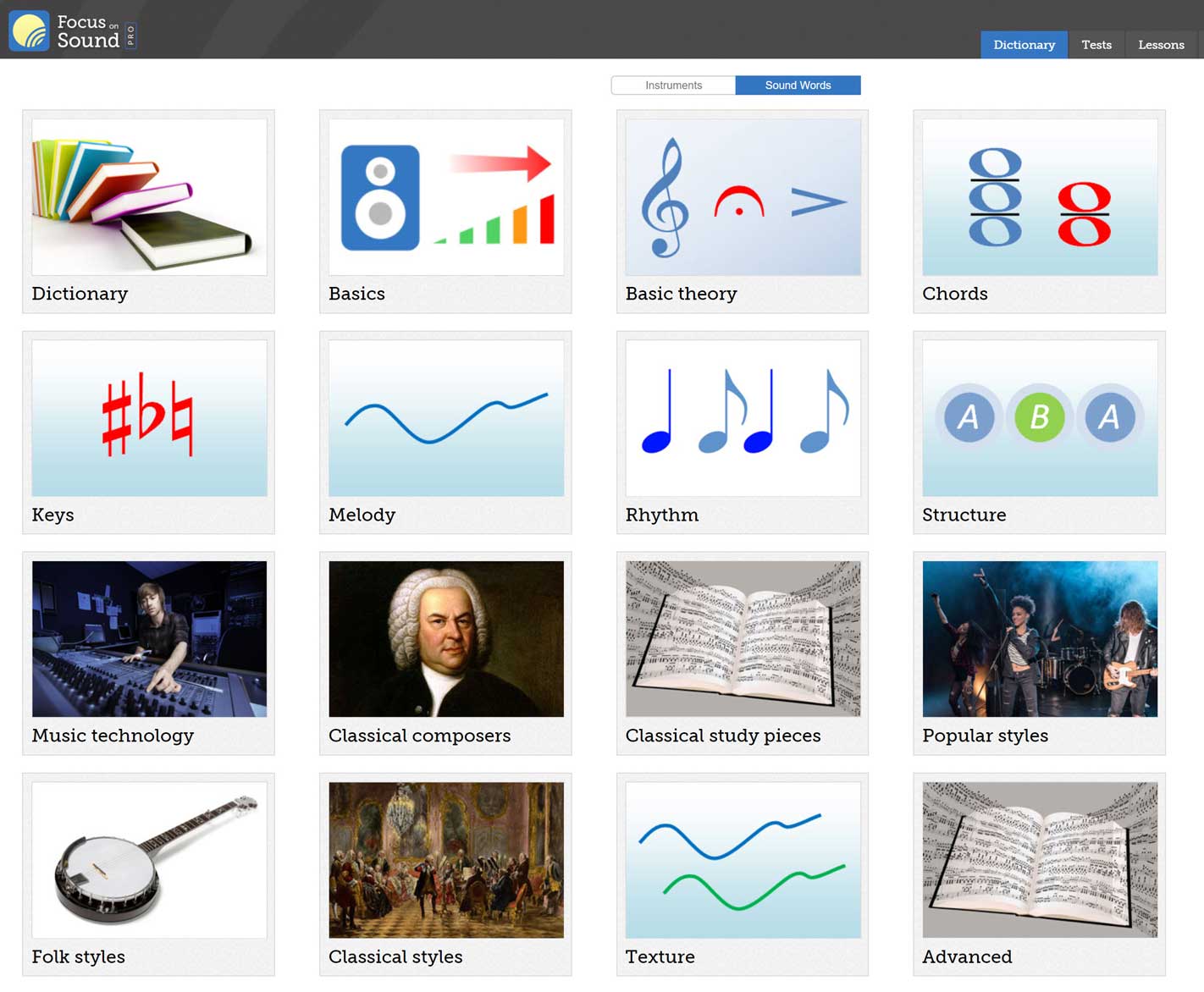 The Sound Words app has around 850 terms, arranged in the topics you see above. Each topic has a series of subtopics like tempo or pop song structure.
The kids really enjoy it and so do I - Ryan Lester - Testbourne Community School
Composing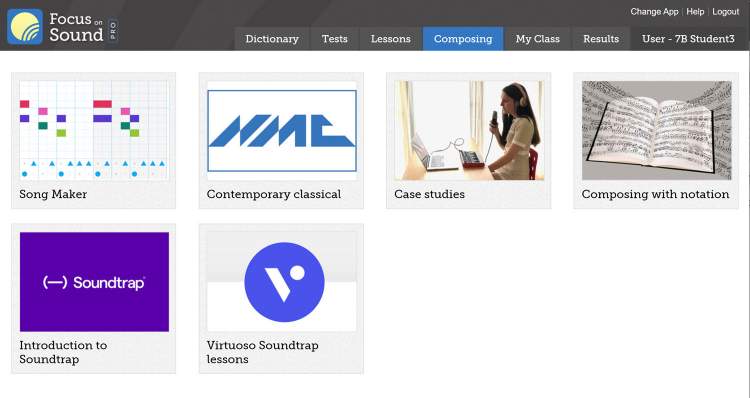 Our rapidly expanding composition section includes a course of sequencing lessons using the simple and attractive Google Chrome Song Maker. For more advanced students we have an introduction to the Soundtrap DAW (subscription to Soundtrap available as an add-on) as well as courses on composing with notation.
Instruments and Terms
Each instrument and term has up to six pages of description, with photos, videos, diagrams and recordings.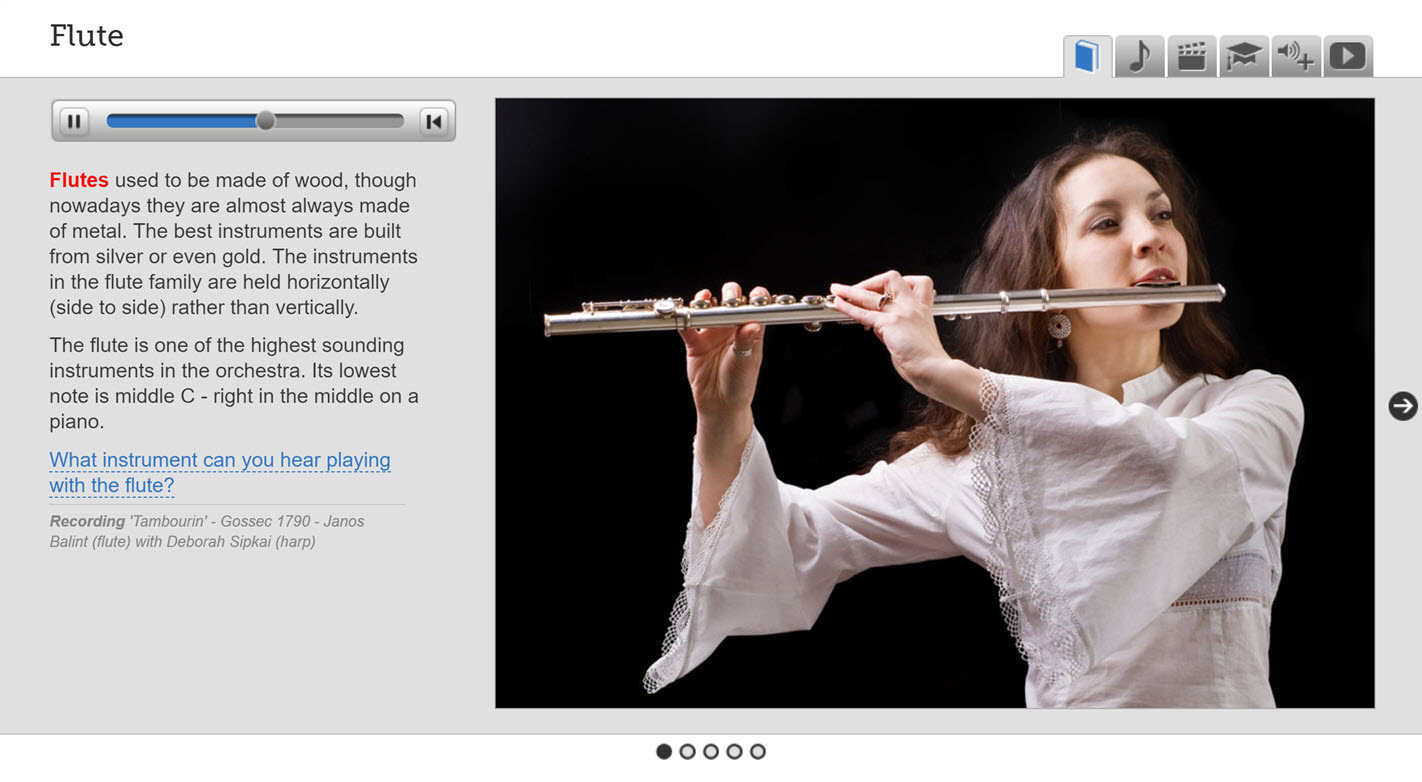 What fabulous resources you have created. The quality of the descriptions, examples, pictures and videos is excellent. Everything works easily both on computer and on my iPhone. Superb! - David Beeby, Poole Grammar School
Tabs
Here's what the tabs in the Instruments section do:
A landmark resource . . . . none of the apps I have seen so far come close - David Ashworth, Teaching Music website
Go here for a full list of topics in Instruments and Sound Words
Testing
Tests and quizzes are at the heart of the software. There are unlimited randomized tests and quizzes - each time the user takes the test the questions will be different. Here's part of a simple identification test from Instruments. Questions start off easy, with both sounds and pictures. Later it gets more difficult.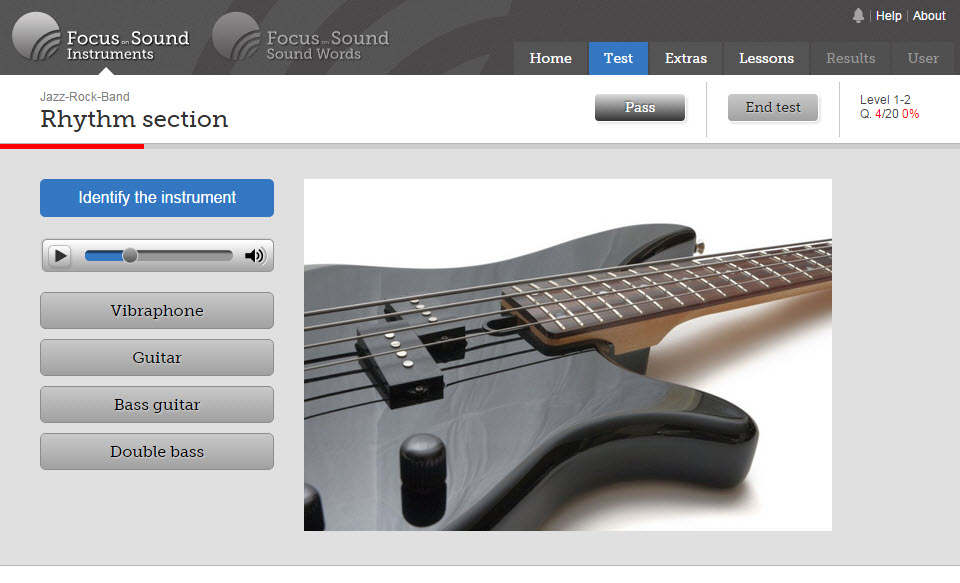 Very easy to use. . . . an excellent resource - John Hall, Ashford School
There are also over 300 fixed tests (i.e. not randomised)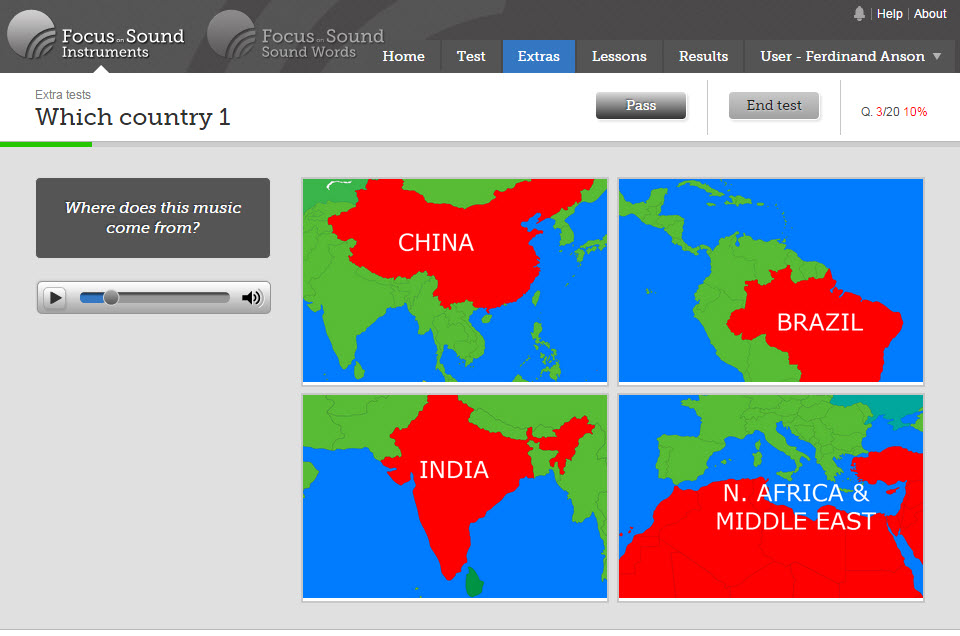 Here's a question from one of our Sound Words tests.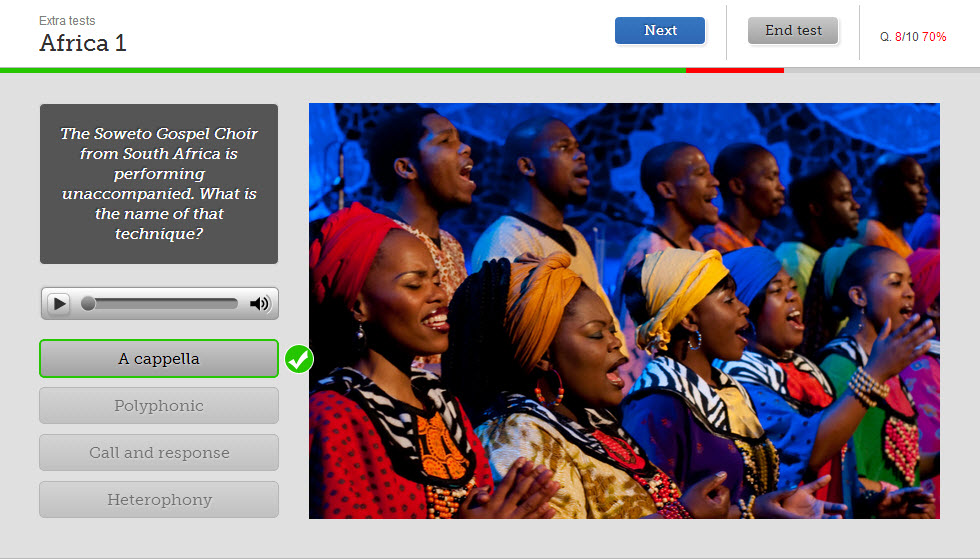 Focus on Sound has changed the way music homework is done. The kids and I find it so accessible and easy to use.
Maria Gilmartin, Wimbledon College, London
Class demonstration mode
There's also a class demonstration mode for tests. This is ideal for whiteboards, smartboards and large screens. Kids can write down answers or give a spoken answer. Here's an example from Sound Words: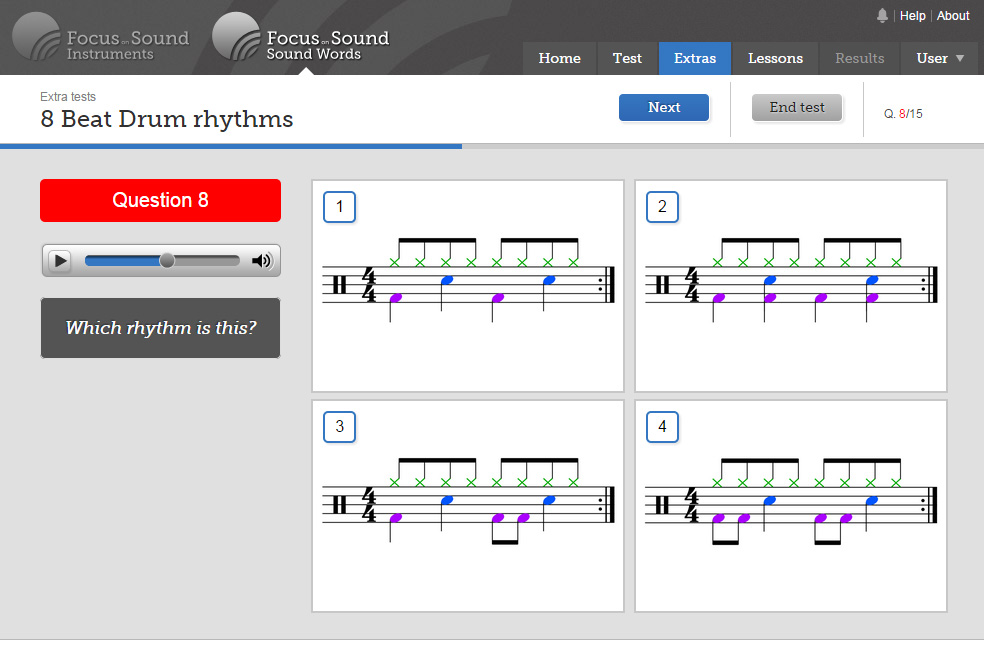 Typed comparison questions
When the student has finished editing or when the teacher wants to show the class, model answers are displayed. The teacher can view and mark the answers online.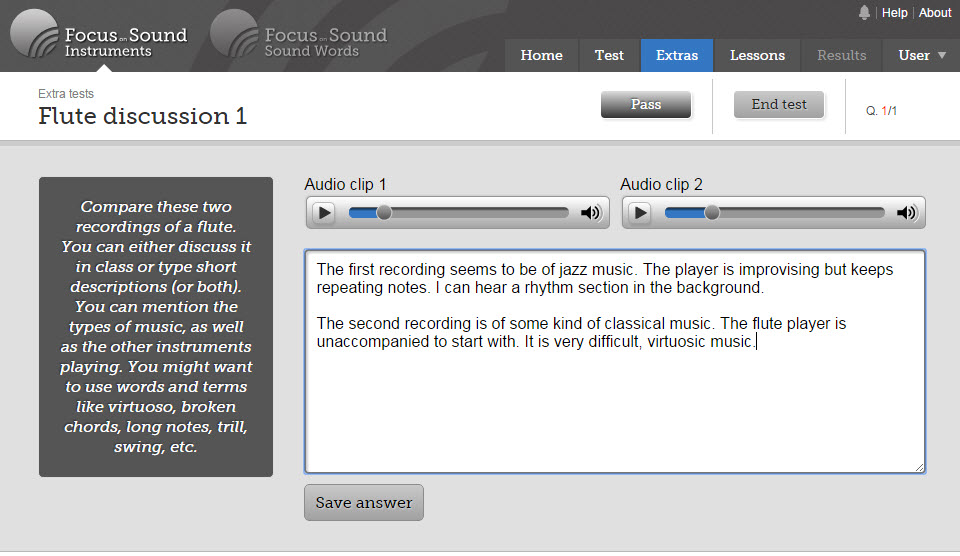 Teachers can also use these tests for class discussion.
Video Discussion/Writing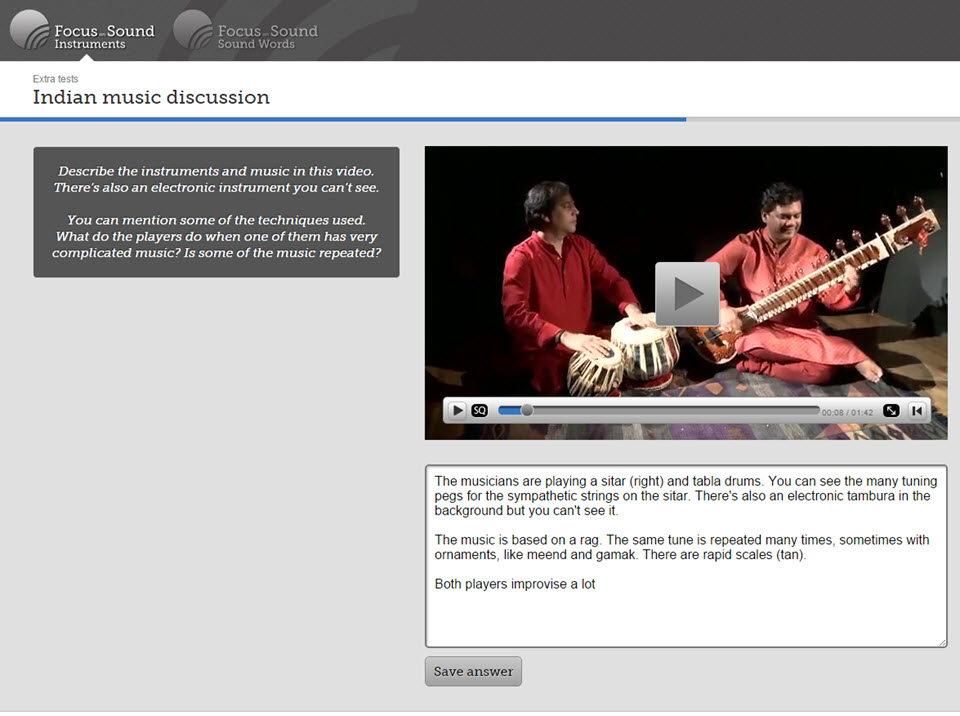 Timeline tests
Students answer questions as they reach each section of music. Notice the question number highlighted on the timeline.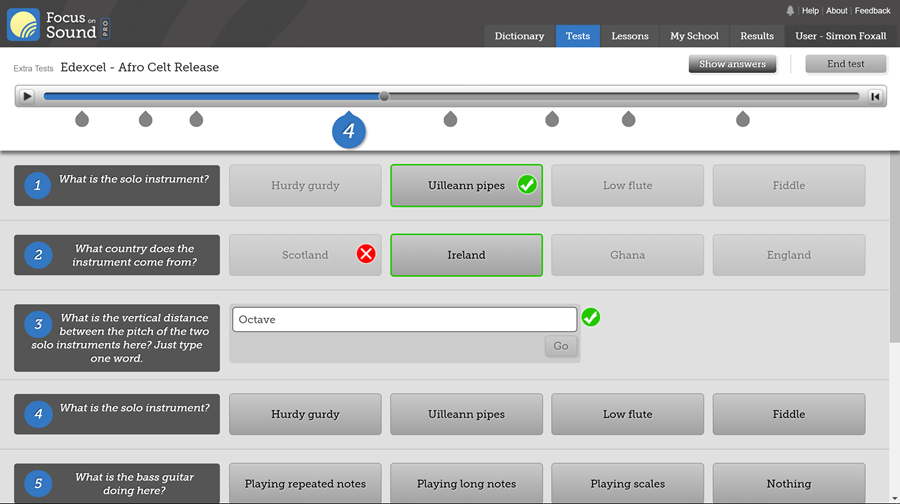 New drag and drop timeline tests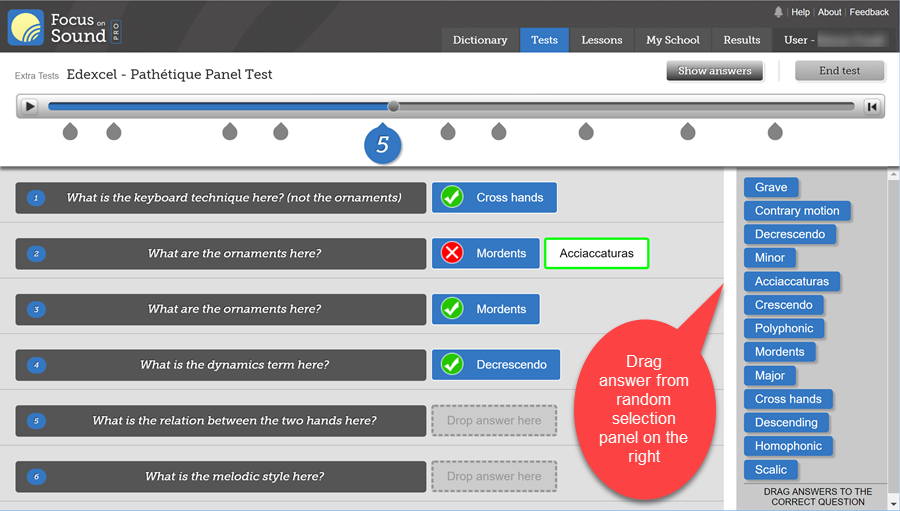 The students are really enjoying using it. It is brilliant for all year groups - Sarah Neville, Hollyfield School, Kingston
Results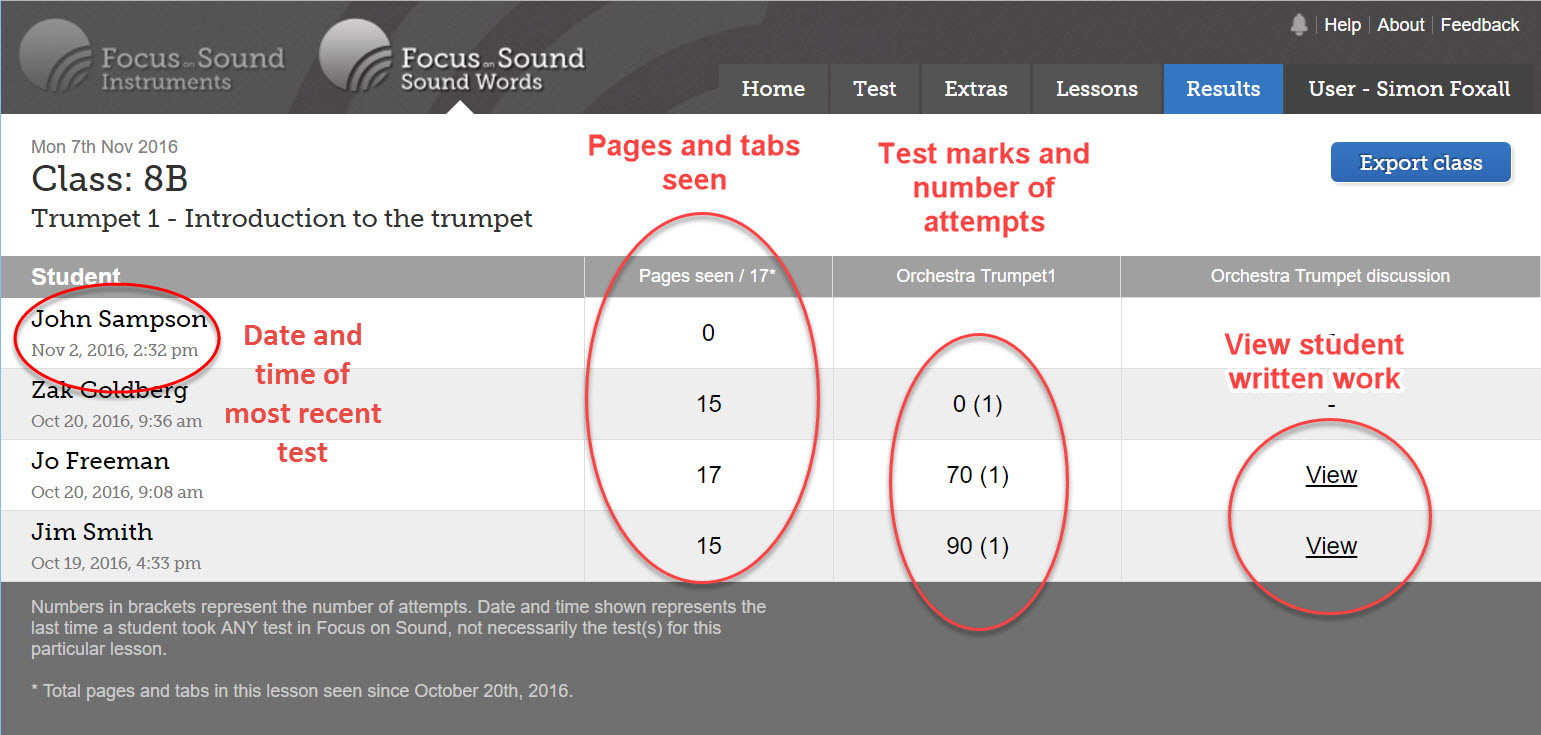 Teachers can quickly see all these aspects of a student's work in a lesson:
Date and time of most recent test
Number of pages and tabs in the lesson seen by the student
Test results, with number of attempts
Links to written work by the student
The teacher can also access detailed class results across whole topic areas.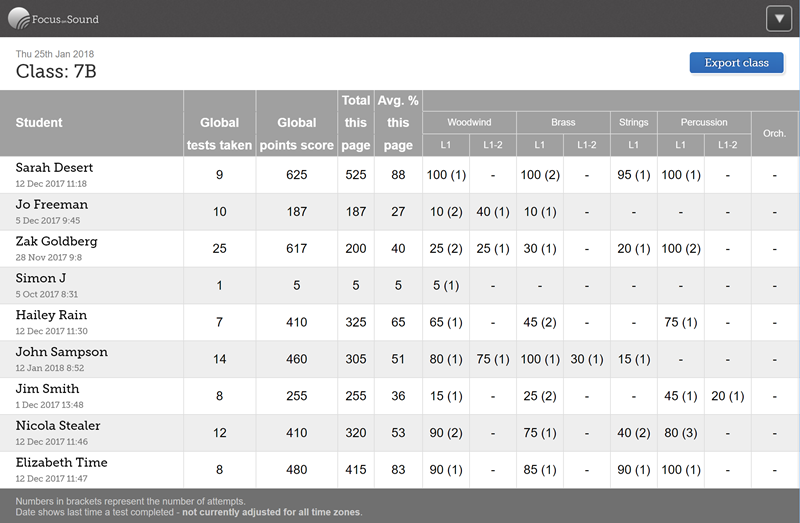 Notice the total and average columns. Class results can be exported to spreadsheets. Individual result sheets can be printed.
My A level and GCSE students love the programme. Positively waxing lyrical about it! It's such a good resource for them – the harmony stuff in particular - Joanna Korzinek (Challoners High School)
Here's a video showing how you can use the results system.
Music notation
In addition to hundreds of short music notation examples in Sound Words, there is a large set of music scores, often lasting many pages. The position in the score is marked by a red dot (see below). Page changes are automatic. The better the screen resolution, the better the display. These music scores look especially good on 'retina' and other hi-res screens.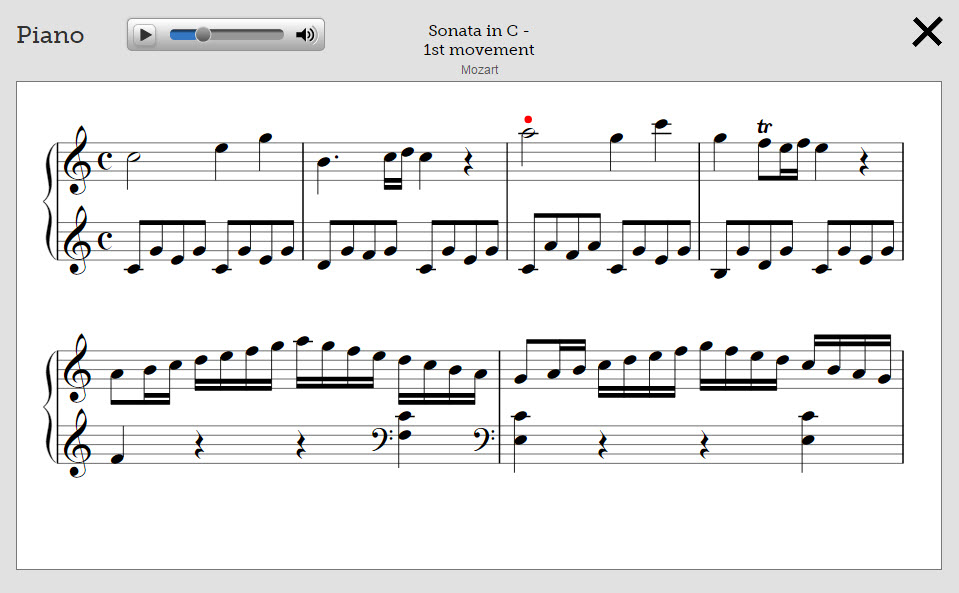 There is a complete course on music reading in Focus on Sound.
Learning advice
All the more popular instruments have advice on learning the instrument - this is especially aimed at the young musician deciding what instrument to learn. The expert advice is also useful for parents to read, so that they can understand what is involved in learning and buying a particular type of instrument.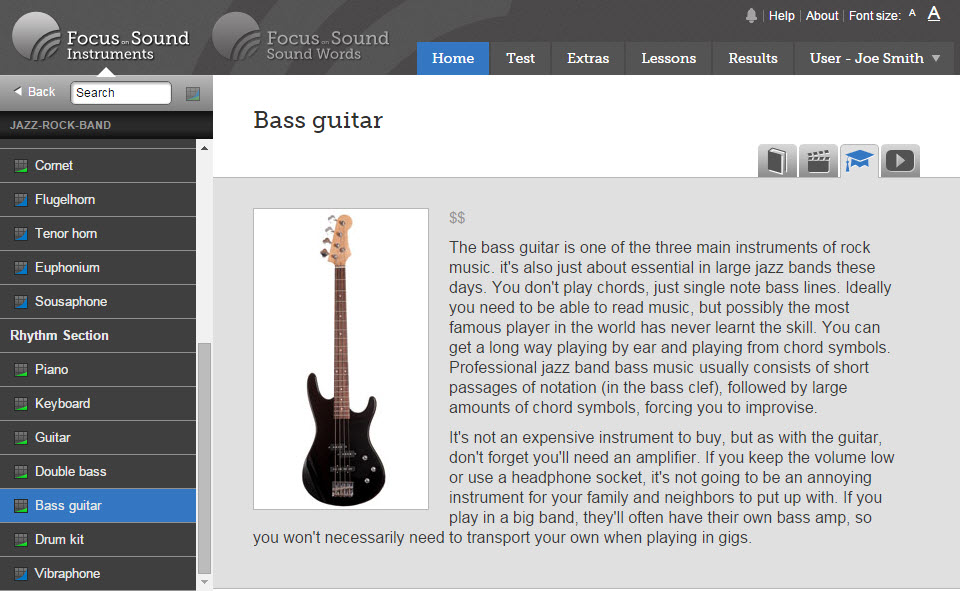 Lessons
Lessons combine elements from the two programs. They all end with a quiz or assessment. There are over 330 lessons so far. Each can be used as a basis for a lesson in front of a class - or for individual use at school or at home.
Here is the main lesson topic page for the UK (the US edition is different). New lessons are added regularly, so this group of main lesson topics could already be out of date.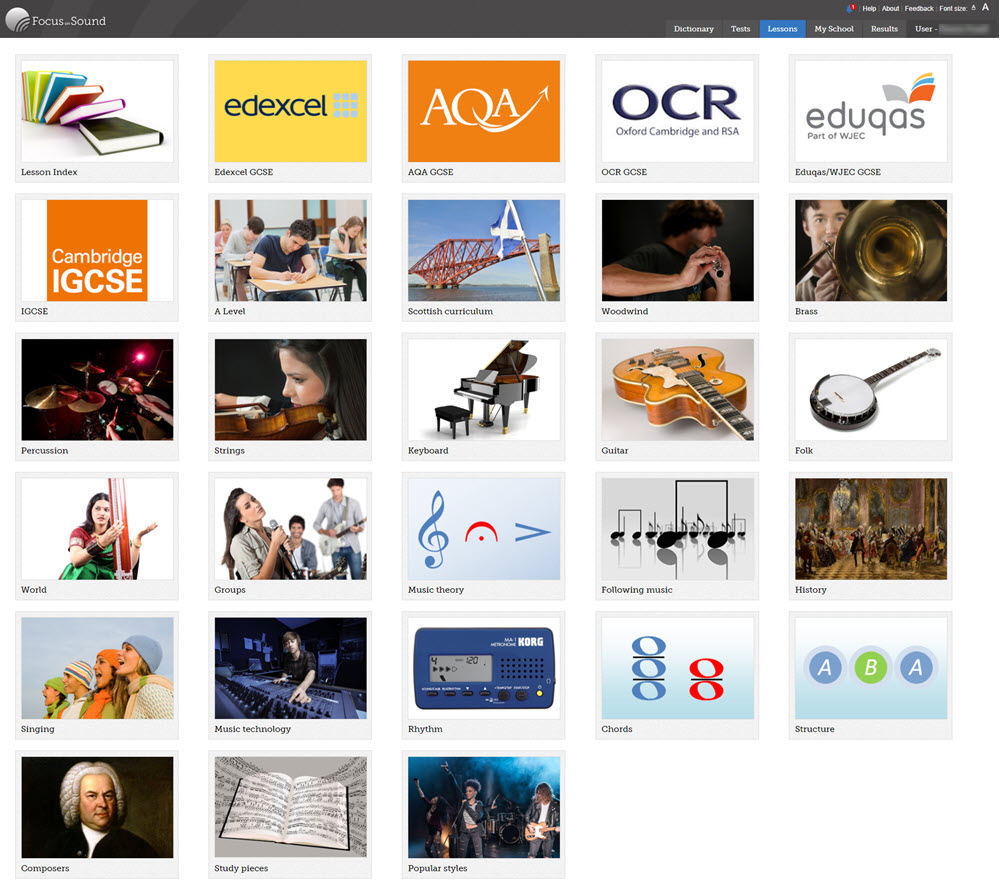 Each lesson covers a number of areas (see the list of topics in a lesson on the drum kit below). Sometimes there won't be time to cover everything in a single class lesson.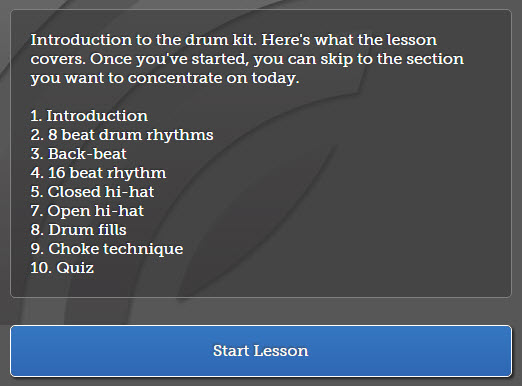 To see a list of lesson topics go here - last updated in 2018
Activities
A new part of Focus on Sound is the introduction of activities like rhythm clapping, chord playing, etc.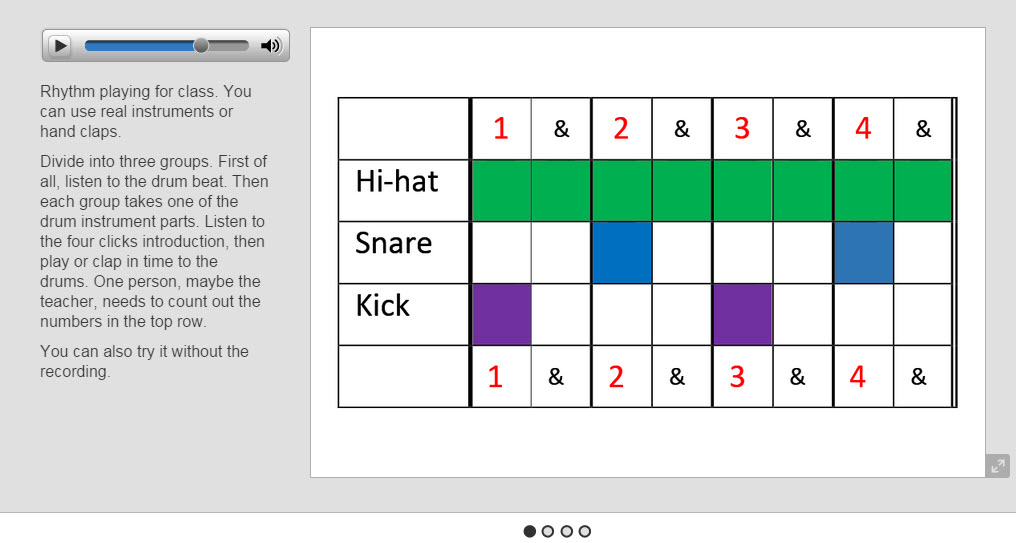 Here's a chord playing exercise for classes with keyboards.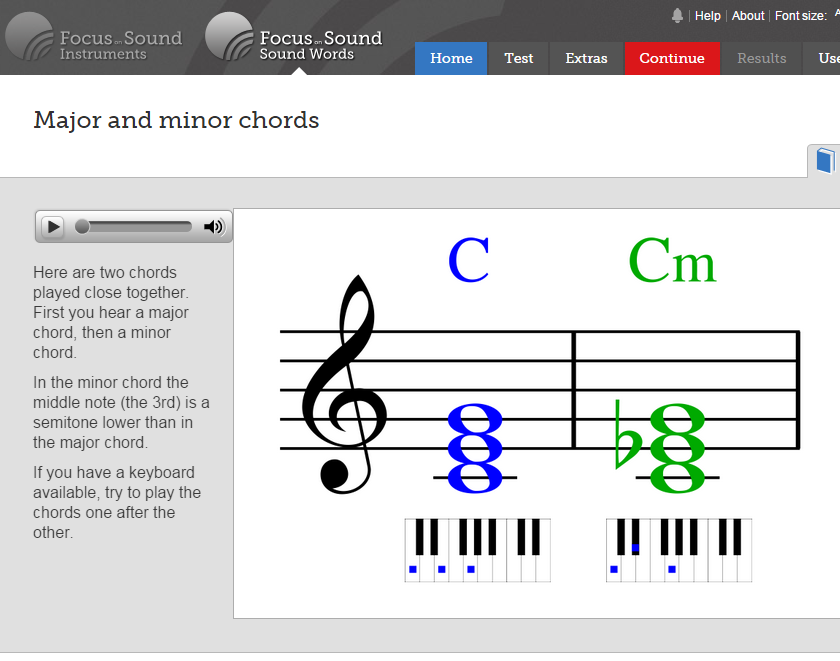 World music
World music is one of many specialities of Focus on Sound. We have top international performers demonstrating a wide range of instruments and techniques. Musicians include a master drummer from Ghana, a multi-instrumentalist from Brazil and world renowned sitar and tabla players from India.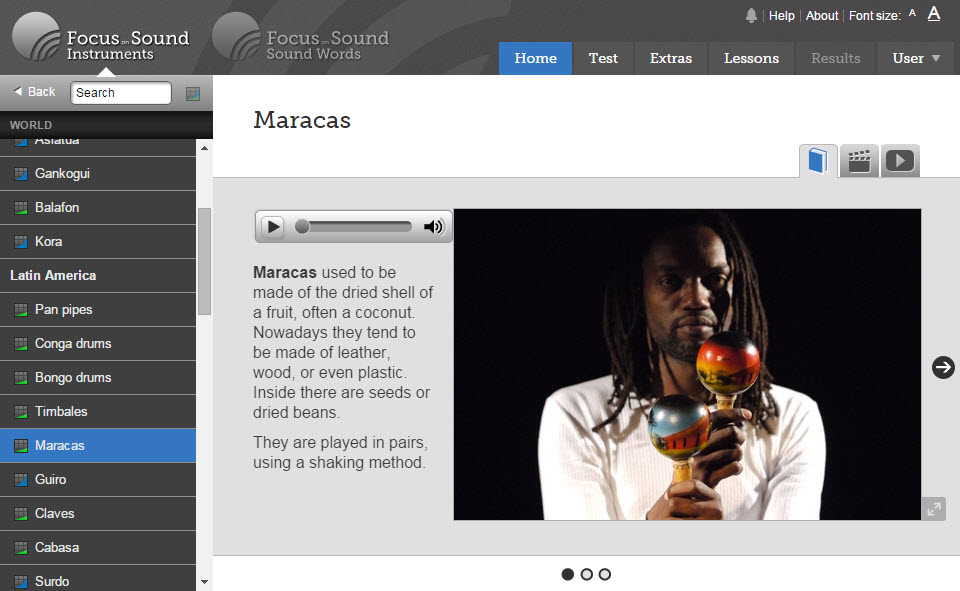 Music technology
We have engaged a top composer of film and TV music music to write our section on music technology. This covers topics like filters, reverb, delay, compression, modulation, etc.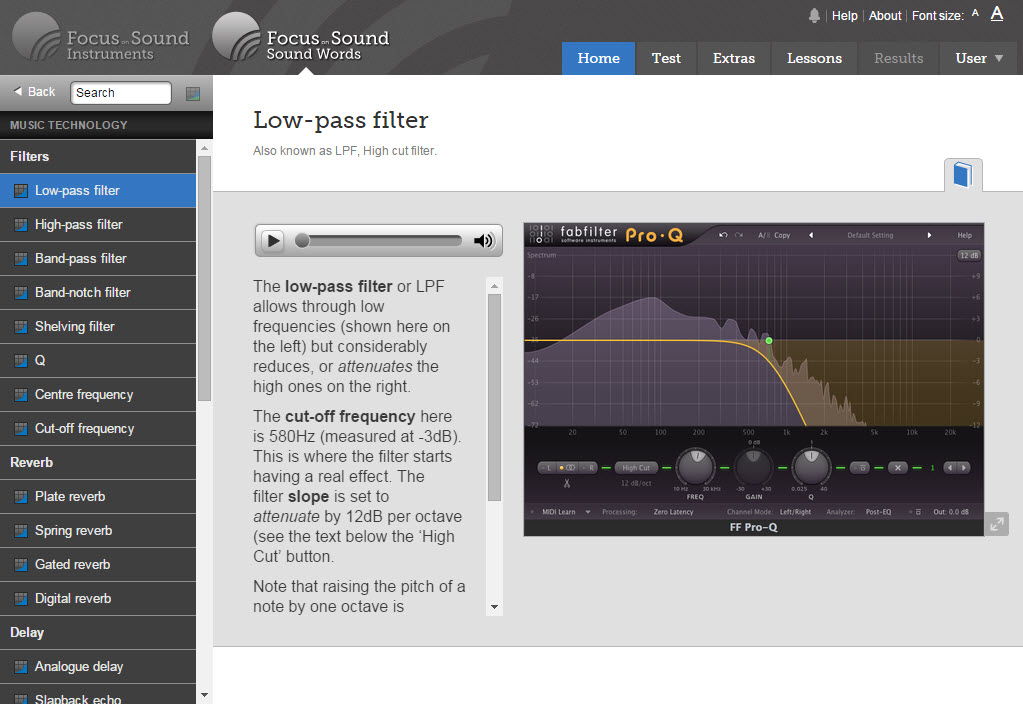 Advanced study
We have all kinds of material for the advanced student, aged 16-18 and beyond. Here's an example. It's a complete sonata form movement in 'short score'. The page changes with the music, and there's a full analysis of the main sections and keys.