01392 690500 (sales only)
FoS Pro
Our new extended version of Focus on Sound!

UK customer quote:
Just starting to realise the immense potential of this upgrade. Still can't believe how utterly amazing this is for the price. This is literally going to save us hours and hours of time. Helen Blythe - The Bewdley School and Sixth Form Centre.
The Pro version includes a 'My School' tab between Lessons and Results. Students see this as a 'My Class' tab.
Here's what you can do:
Assign work to individual classes, groups of classes or the whole school. This can be existing Focus on Sound content, tests or lessons, or you can set your own work including external links
Write and upload your own content for use in the Focus on Sound environment (pictures, audio, text, video, etc.)
Set your own tests, using up to 4 types of test and 17 different types of question. You can use FoS media or upload your own. We are confident that this facility will be far beyond what is possible in any existing virtual learning environment. Not all test and question types will be available at launch.
On their My Class tab, students will only see the work assigned to their class or to the whole school
It is possible to obtain part year upgrades. Email info@focusonsound.com
Here's an example of custom lesson creation. These are some of the special features:
Choose from existing Focus on Sound lessons or entirely new ones (no. 2 in screenshot)
Allocate the work to individual classes (no. 4 in screenshot)
Add internal or external web links (no. 7 in screenshot)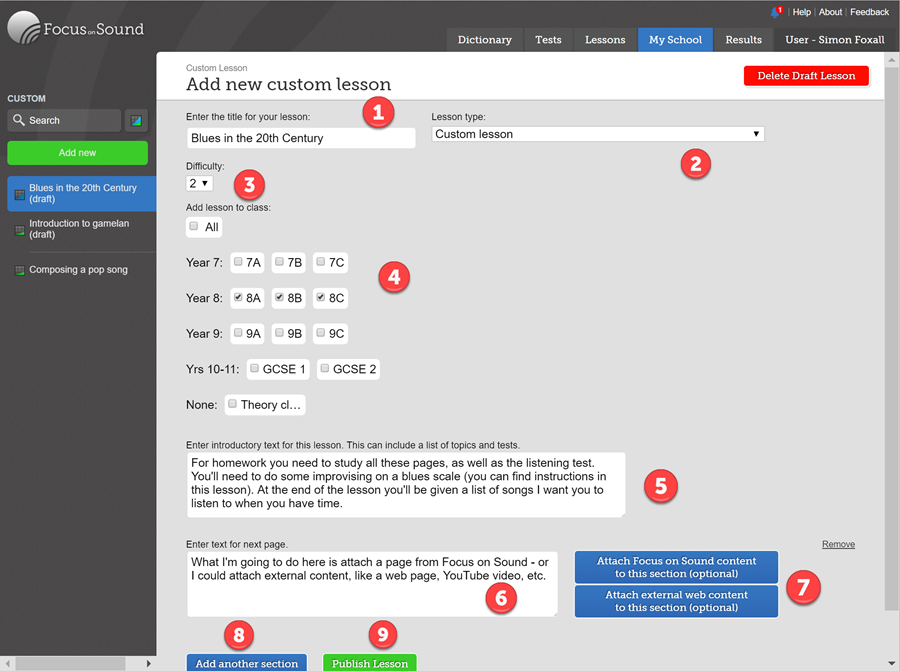 FoS Pro Custom Test Types Phase 1
All tests work in standard and class demonstration modes
* Random identification tests are based on a list of terms/instruments chosen by the user. They are developed automatically by the Focus on Sound system to produce 20 random questions using some or all of the types listed, depending on the type of terms chosen by the teacher.
| Custom test types | Custom question types | Availability |
| --- | --- | --- |
| Type 1 - Random identification* | Single picture and sound, multiple choice text | Now |
| | Single picture and sound, type answer | |
| | Single picture, multiple choice text | |
| | Single sound, multiple choice text | |
| | Multiple picture, verbal stimulus | |
| | Multiple picture, single sound | |
| | Single picture, type answer | |
| | Single sound, type answer | |
| | Quiz text, multiple choice texts | |
| | Single sound, multiple choice quiz texts | |
| | | |
| Type 2 - Timed test, single audio | Quiz text with multiple choice texts | Now |
| | Type answer | |
| | | |
| Type 3 - Discussion/writing | Single sound, write answer | Now |
| | Compare two sounds, write answer | |
| | Look at video, write answer | |
| | YouTube video, write answer | |
| | Compare two YouTube videos, write answer | |
| | | |
| Type 4 - Fixed questions | Single picture and sound, multiple choice text | Early 2019 |
| | Single picture and sound, type answer | |
| | Single picture, multiple choice text | |
| | Single sound, multiple choice text | |
| | Multiple picture, verbal stimulus | |
| | Multiple picture, single sound | |
| | Single picture, type answer | |
| | Single sound, type answer | |
| | Quiz text, multiple choice texts | |
| | Single sound, multiple text boxes - choose two answers | |
| | Single sound, multiple choice quiz texts | |
| | Single picture and sound, multiple choice pictures | |