01392 690500 (sales only)
Google Classroom and Microsoft Teams Integration
I love the way it works through Teams - its brilliant! - Trish Parrans-Smith, King Edward VI Aston School
It's all very intuitive, and I find it very useful indeed - Sam Parratt, St Thomas the Apostle School and 6th Form, Southwark
Advantages (compared to using our traditional MusicFirst system)
Students and teachers use the same logons they use at school
No need to upload lists to Focus on Sound. You just tick a box next to the names of your existing class names. Students are automatically uploaded to the system.
Set homework and classwork simply by clicking the new Share button in Focus on Sound and following the standard instructions in GC or Teams
Focus on Sound now sends test results direct to GC or Teams - this feature works with our custom lesson creator. Teachers are automatically informed when work has been done, though Google and Microsoft prohibit students from sending their own test marks back. Teachers press a button to send the class marks back.
We aim eventually to provide direct links to other software sold by MusicFirst including Noteflight and Soundtrap - if your school uses GC or Teams to access them.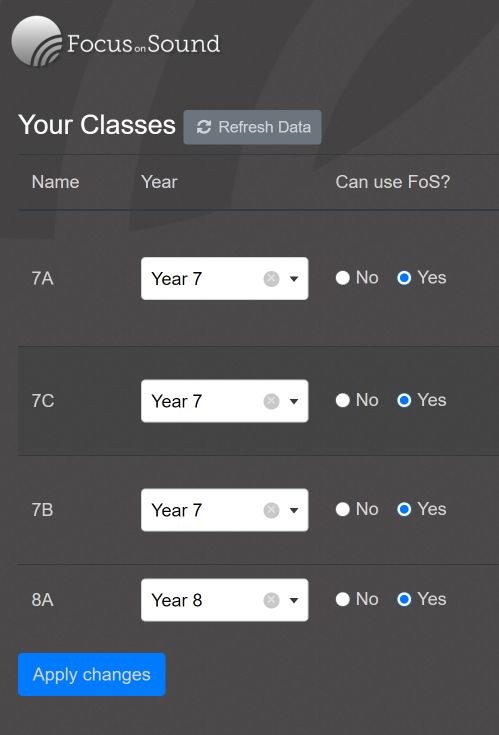 With a Google Classroom or Microsoft Teams login, you only need to set your classes to 'Yes' and select a year group for each class. You can choose from preset year names, as shown here (we include Scottish groups) - or type your own, like KS4.
Disadvantages (compared to using our traditional MusicFirst system)
If you have been using Focus on Sound before, your saved test results won't be copied to the new version. You can keep the old version for a few weeks to ensure you have downloaded the data.
You need to know and understand your school's GC or Teams systems
If you have got used to Focus on Sound over a year or more, you might not want to change systems now. August/September would be a good time for existing users to change.
Application form to use Focus on Sound with Google Classroom or Microsoft Teams
For schools that already have a current subscription.
Please note: we are now able to supply integrations where several schools all share the same email domain for logging on to GC or Teams (everything after the @). This applies to most Northern Ireland schools, as well as some chains.
Google Classroom integrations are straightforward.
A few older Teams set-ups in schools might cause problems but in general Microsoft seems to have fixed most of these issues now.