(0)20 3929 9046 (sales only)
Password issues with the Focus on Sound admin system
If you have an issue with your Teams or Google Classroom password, that's out of our control. You'll need to ask IT or a teacher.
Everything below refers to the new Focus on Sound admin system
Old MusicFirst system
Important! The MusicFirst login system is no longer used for Focus on Sound.
Who sets up passwords?
To start with only the main school teacher/admin contact will have the new login credentials. All students and teachers will be set up with usernames and passwords by the school teacher/admin.
If you're the main contact and can't find the automated email with instructions, please check for an email on 11th August 2022 from noreply@mailout.focusonsound.com. If you can't find it, try looking in your Spam/Junk box. The password and possibly also the username will not be the same as for the old MusicFirst login. Email info@focusonsound.com if you are the teacher/admin and can't find your credentials.
Temporary and new Passwords on the new FoS admin system
Temporary password. The first password you receive is a temporary password. All users have to change that to something secret when they first log on. The secret password is totally hidden from us and from every other user.
What password to choose. We suggest you use the same secret password you use elsewhere in the school. Remember that all passwords in this system are case sensitive. If the password is rudolph631 and you type Rudolph631 you won't be able to log in.
Teachers: Setting up a password with bulk import
Teachers adding a temporary password need to copy the temporary password to give to students. You might want to type your own, like Music123 and use that for all students whenever you add them. Then they change the password to their own secret one.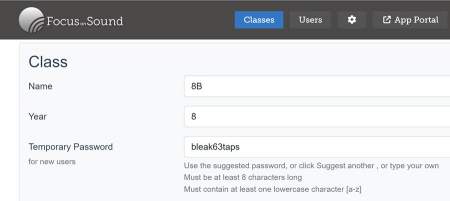 Teachers: Resetting a password for all students
If the students have forgotten their temporary password - or if users have forgotten their own secret password, you can set a new temporary password for them.
Go to the Users page
Select all users by clicking the tickbox on the left just above the list
Select the 'Set temporary student password' tick box.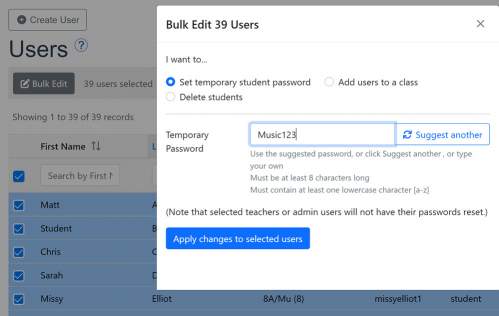 Teachers: Resetting passwords for all students in a single class
Go to the Classes menu
Select the relevant class
Tick the tick box at the left above the list of students to select the whole class
Click the Bulk Edit button
Select 'Set temporary student password'
When you choose a password, make sure you make a note of it, to give to the students. Don't forget you can choose your own simple one like Music123
Click the Apply changes button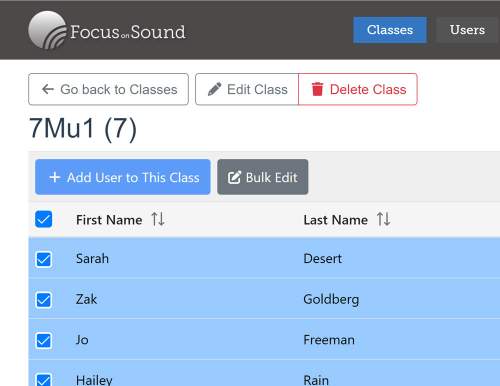 Teachers: Resetting individual passwords
Go to the Users menu
Click on the name of the student or teacher
Click the Reset password button at the top