(0)20 3929 9046 (sales only)
Mobile Apps
Mobile apps have been discontinued. We have now set up a much better system of web apps. This method will ensure you always have the most up-to-date version of Focus on Sound. Instructions are below:
Android
Log on to portal.focusonsound.com in the Chrome browser
Choose the correct logon method - Google Classroom, Microsoft Teams or MusicFirst Application Cloud
When you get to the main Focus on Sound dictionary screen, press the three dots at top right for the options
Choose Add to Home screen. That will add a Focus on Sound icon to your home screen.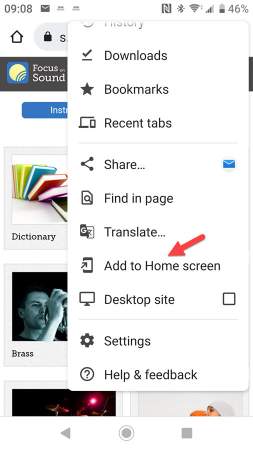 iOS (iPad and iPhone)
Instructions to follow. Basically, log in on the browser. Then click Add to Home screen.