01392 690500 (sales only)
Setting Assignments for Google Classroom
It's now very easy to set an assignment using GC, though it's a little harder if you want the test marks sent back (see the sections 2 and 3 lower in the page).
1. Using the Share button
For every page in Focus on Sound that can be set as an assignment you'll see one of these 'Share' buttons at the top right of your screen.

That takes you to the screen below. You might need to click on your profile picture to change accounts if it defaults to your personal account.
You then choose the class (see below). You can then set dates, etc. and duplicate the assignment to other classes.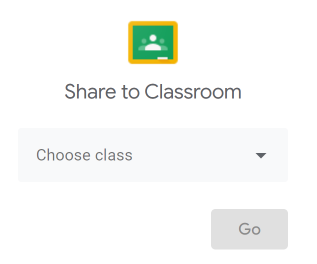 When the students have done the work, they need to click the 'Mark as Done' button.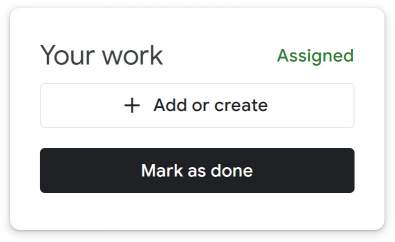 You have no way of checking whether they have actually done the work if you have just set pages on a dictionary topic such as 'Flute' or 'Perfect cadence'.
If you have set a test or a lesson, you can go into Focus on Sound and check test marks and the number of pages read.
2. Using the new Custom Lesson/GC feature
If you need results to be sent back to Google Classroom and/or you want to set work for multiple classes, you need to use the new Custom Lesson system.
First, go to Custom Lessons in My School.
Then click 'Add new' or edit a previous custom lesson. Notice the new 'Sync with Google Classroom' button.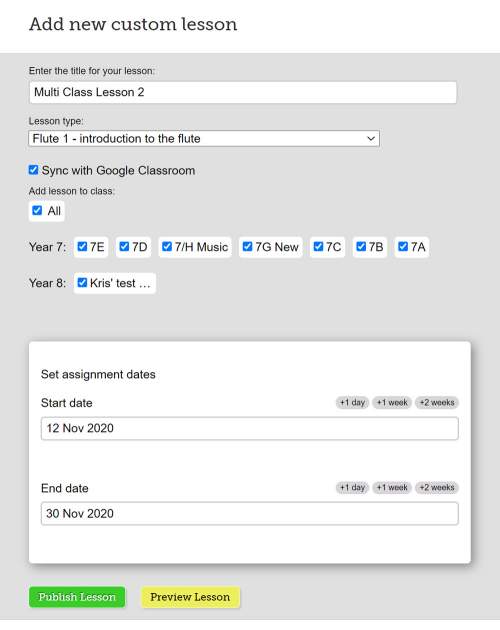 You'll notice a date assigner now appears. You can adjust the dates later in Google Classroom itself.
When you have finished setting the lesson you'll see a new Preview Lesson button. Use that to check through everything before you publish.
When you publish the lesson it will be set up as an assignment for the classes you have specified.
Once you have set up the assignments, you will probably want to go into your Classroom application to check them all and adjust dates as necessary.
Please note that the lessons will appear 'greyed out'. We're investigating this, but the lessons still work fine.
3. Sending results back to Google Classroom
When the student has finished the lesson the teacher will see that the work has been 'handed in'. It's important they get to the very end, pressing the End Lesson button. No mark will be shown at this stage.
Unfortunately, Google does not allow students to send their own results. It has to be the teacher that presses the button.
The way we do this is to have a 'Save to GC' button in the Focus on Sound class results system. So, first find the custom lesson itself, either in My School -> Custom lessons, or via the main results system. Then, once you have chosen the class, you'll see the new button.

You'd need to wait until most or all the students have done the lesson before clicking that button.