(0)20 3929 9046 (sales only)
Logging on with Microsoft Teams
Important: Only use the Teams logon if you're certain the teacher has set up Focus on Sound to work with Teams. Otherwise most users use option 3 (sign in with MusicFirst application cloud).
If you still use the MusicFirst version of Focus on Sound, make sure you have closed Focus on Sound if it is open in a browser tab. If it was open, you should then close the whole browser and reload it.
The web address (URL) for almost all students and teachers is:
https://portal.focusonsound.com
Some schools that share a domain (everything after the @ in the username) need to use a special address to log in. You should have been given this by your teacher. There's more information for teachers here.
To type the standard address just start from 'portal' - (much better to save the address as a 'favorite' or as a school link).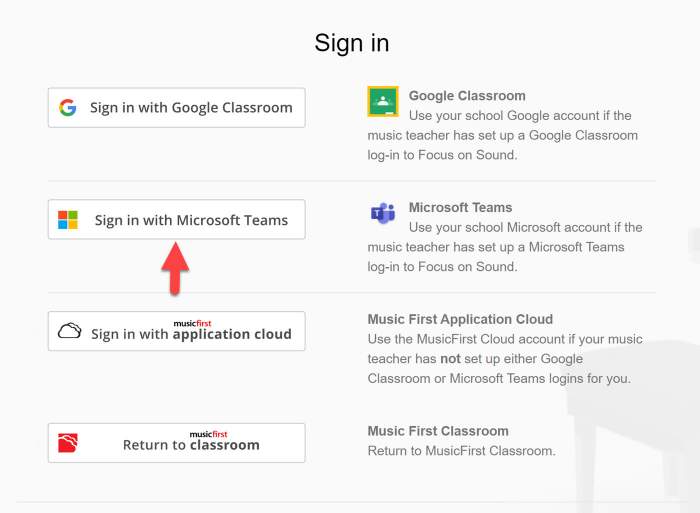 There are four buttons here. It's very important you always use the second one!
Sign in with Microsoft - you must use your Microsoft Teams school logon - not your home logon.
Error messages
If you get an error message, here are some of the most likely causes:
The school Focus on Sound system has not been set up to use Microsoft Teams
The school IT department has not allowed Focus on Sound to be used with Teams
The music teacher hasn't set up classes to work with Focus on Sound
You are not using the your school Teams credentials (username and password). You might be using your home credentials instead.
Sometimes you might just need to close your browser and start again.