01392 690500 (sales only)
Microsoft Teams
Set-up for Focus on Sound
Generally your existing classes will be fine to use. Please make sure they are activated. Any new classes you create yourself in the Teams for Education app will also be fine. There are occasional problems if school IT has set up classes using automated software. If after logging on (see below) you don't see all of your classes or get a message saying the user account you logged in with is not linked to a school, there are solutions for IT staff and technically minded music teachers here.
Otherwise there is nothing that IT has to do!
Here is a quick check that you can do in your Microsoft Teams for Education app. Try editing a class: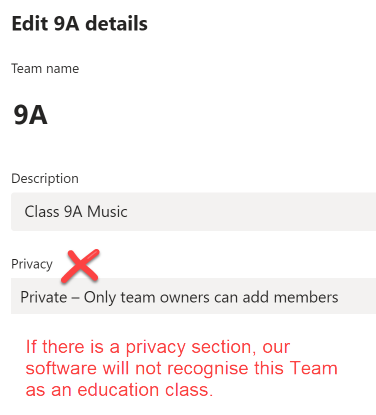 Teams classes for education should not have a privacy section. If your classes do have a Privacy section you or IT will need to set up the class in a different way. Go here for more information.
Deletion of old MusicFirst Version
Previous standard system users: as soon as you're happy with your Teams integration we'll transfer any existing custom tests, lessons and content, then close your old account. Or you can close the new account and revert to the old one. Go here for the form to close your old account.
Logging on
The web address (URL) for all students and teachers of Google Classroom and Microsoft Teams is:
https://portal.focusonsound.com
To type it just start from 'portal' - (much better to save the address as a 'favorite' or as a school link).
This will be the eventual logon page for all users of Focus on Sound (unless you're coming from the MusicFirst Classroom). Once you have everything set up and you're happy with it, you can make sure there's a link to the portal address for all students and teachers.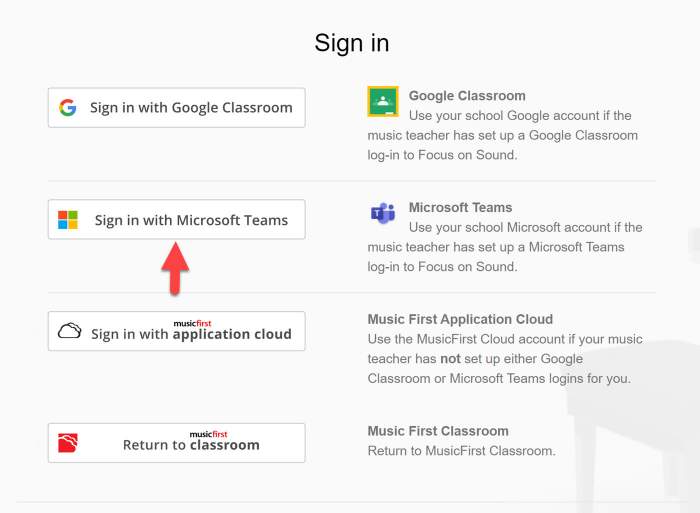 IMPORTANT
There are four buttons here. It's very important you and your students always use the second one!
Sign in with Microsoft - you and your students must use your Microsoft Teams school logon - not your home logon. You and the students don't have to have the same 'domain' - the section at the end of the Microsoft Teams address after the @. If you and the students have different domains please make sure we know - you have probably already done so.
Once you're in Focus on Sound you'll see a new logout button at the top right. It's important to use that rather than just closing the tab (window).
Problems Signing into Microsoft Teams/Focus on Sound
1. You get a message saying that the user account you logged in with is not linked to a school.:
Make sure you have used your correct school Teams login
Make sure your classes are activated in Teams.
If you still have the same error message, your classes might have been set up in a way that stops our software accessing them. Go here for detailed solutions.
If you have recently purchased Focus on Sound for the first time and find you can't use Teams because of this problem, please email info@focusonsound.com . We'll give you a standard 'MusicFirst' login instead. Existing users can revert to the standard version as well - but please let us know.
2. You get a message saying that you 'need admin approval':
A member of staff with an administrator account (most likely in the IT department) needs to go to this link
Or copy this link and send it to them:
https://login.microsoftonline.com/common/oauth2/authorize?client_id=30fd846c-0a81-46ed-8535-1669bc1f9c0a&response_type=code&prompt=admin_consent&redirect_uri=https://portal.focusonsound.com/microsoft-response
That will take the administrator to this screen: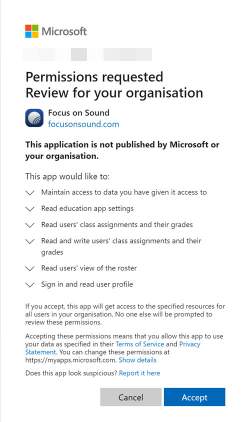 They need to click accept and that will allow other non-admin users in the school to login to Focus on Sound.
Classes
You'll need to set up your classes in Teams first. Your school IT department should have set most of these up for you already and should be able to help you with any queries. Please note the message at the top of the page. There's more specialist information for IT staff here. Microsoft also supplies help topics on most issues. We don't provide support yet for this.
If you want to set work for all classes that study music, including those taught by other teachers, they will need to set you up in their groups.
If you have set up your classes, once you have logged onto Focus on Sound you just need to allocate the classes to our system.
The process below is normally done by music teachers, though it is certainly possible for IT staff to do it if they are attached to the classes you teach.
If you haven't already reached the classes menu, find it at the top right:

Then you will see something like this: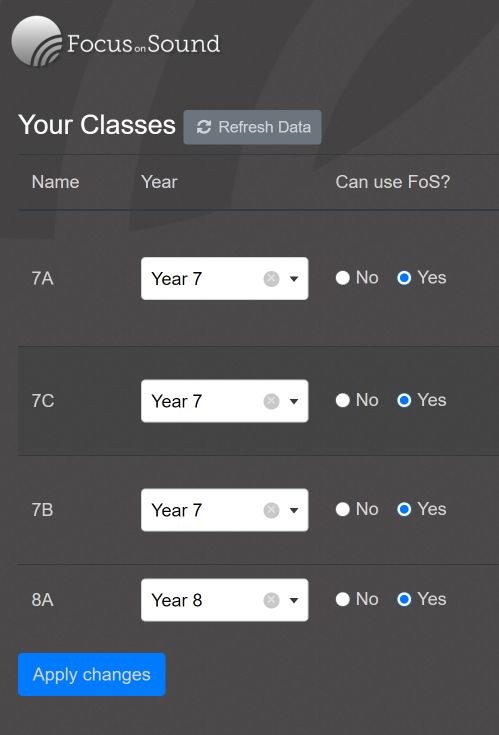 This screen shows you all the classes you have set up in Teams. You need to click 'Yes' for the classes that will be using Focus on Sound. Our system checks the user numbers. If you allocate more students than your subscription allows, some students will be locked out of the system.
Each class needs to be allocated to a year group. We supply a number of presets, like 'Year 9' or 'N5' (Scotland). Alternatively, just type your own.
Accessing admin etc. from Focus on Sound
You'll notice three new buttons at the top right of Focus on Sound:

Change App takes you back to the app chooser screen (if you also have Instruments First)
Classes takes you to the Classes menu
Logout takes you back to the signing on screen
Setting assignments/homework in Microsoft Teams
Go here
Delete old Account
Go here for the acceptance form for deleting your old account. Further details are there.