01392 690500 (sales only)
Getting started with Focus on Sound
For teachers only
If you have signed up to use Google Classroom or Microsoft Teams go here
If you'd like to sign up to use Google Classroom or Microsoft Teams but haven't yet go here
If you have the MusicFirst Classroom or Rhinegold Education Online Music Classroom go here.
Standard Version using MusicFirst Application Cloud
1. Go to the URL (web address we gave you).
Ideally just click on the link we sent and save it as a favourite in your web browser. If you're in a school and you have bought a subscription, we strongly advise getting IT to set the school up with a link on a school web page.

If you absolutely have to type the address, please notice that there's no www. Don't use Google search to look for the address. Type it straight into the browser address bar at the top. You don't need the https:// Just start with the domain name we gave you.
2. Use the credentials we sent you to log on: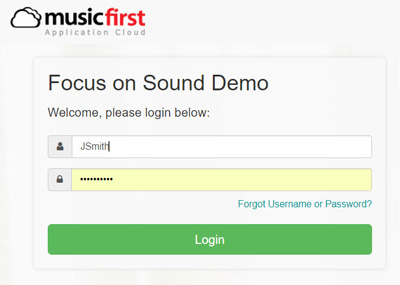 Please note that the password is case sensitive. That means, for instance if your password is Music1234 and you type music1234 you won't be able to log on.
3. Choose the program.
This will be Focus on Sound or the junior version, Instruments First
Before you click on the icon, please notice the School Tools button at the top. That's where you do the admin.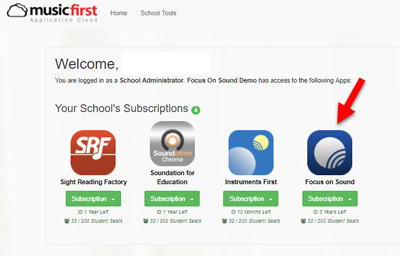 4. Look at the Dictionary
If you're in the main Focus on Sound program, there are two separate sections, Instruments and Sound Words. Try clicking these buttons at the top to see the difference.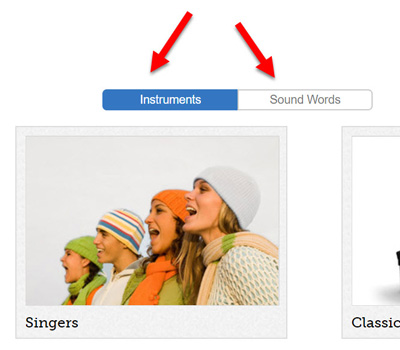 5. Look at the Tests button
Notice that this too has two sections: Instruments and Sound Words. The tests in this section involve random identification of instruments and terms, as well as fixed tests. Each time you take the random tests it will be different. Questions are chosen at random.

6. Look at Lessons
Notice that the Lessons section isn't split into two sections. The section combines elements from the Instruments and Sound Words dictionaries, together with listening tests.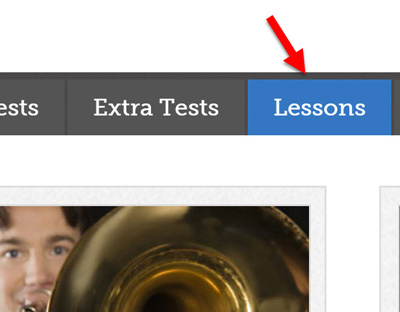 7. Look at the Results tab.
You won't be able to use this button until you have set up some classes. Trial users won't be able to do this.
8. Look at the other buttons
Take a quick look at the small buttons at the top. The bell icon will show in red if there's a new message from us to you. The font size button is very useful in the dictionary section and the tests. You won't see the button in the Results page.

Teachers: please send us any feedback you can. We're particularly interested in constructive criticism and suggestions (though we obviously like reading praise as well!).
Adding Classes, Students and Teachers with School Tools
School Tools is where you do all the admin, like adding student and teacher names, classes, etc. You find this button at the top of the login page. If you have Focus on Sound open now, you'll have the login page still open in a tab to the left. Here is where to find the button (though you won't be able to use the controls if you're in a trial version):

Adding individual students (or small numbers), and classes (full version only - not trial).
Please note, we don't do this for you. You'll need to do it yourself, though we can help with school lists (see below). You'll need to set up classes first if you haven't already done so, otherwise you won't be able to attach the new student to a class. To set up a new class, click on Your Classes + Add
To add individual students, click on Your Students + Add
Important - if students are not attached to classes, you won't be able to see their test results.
Preparing school lists (full version only - not trial)
Students have to log on with their own separate credentials, so you'll need to prepare a list. It might be a good idea to get IT to help.
As with any data in any software, lists must be presented in tables. A Word table is possible, but just typing a list with details separated by tabs won't work. Excel or any other spreadsheet would be a better choice.
You can export lists from school information management systems to an Excel spreadsheet. Our user page has more details. Here's the format of the list. You should aim to have all students on a single long list, with no empty rows and only one list of column headers (in the first row - as shown).
| First | Last | Class | Username (optional) | Year group |
| --- | --- | --- | --- | --- |
| Jo | Smith | 7B | SmithJ16 | 7 |
If you don't provide a username, that's no problem. The admin software will work them out automatically. The advantage of providing your own username is that you can use the usernames the students use to log in to the computers in school - much easier to remember. You'll probably need to get these from IT.
If you're adding the data yourself, please note that the final Excel file needs to be saved as a csv file. You'll see that as one of the options in Excel 'Save as'.
You'd then go to Batch import to import the student list. You can find more instructions on our user page.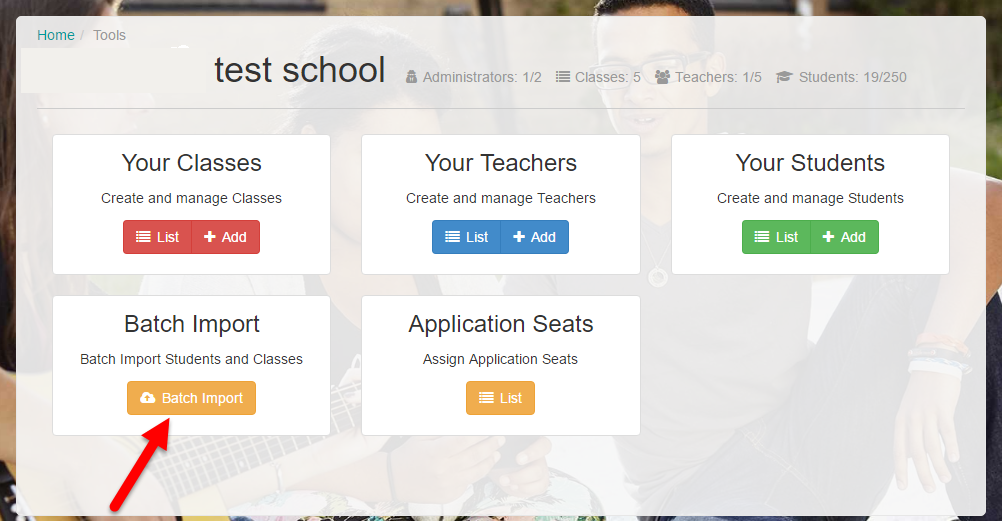 We're happy to help, though teachers should be aware that in peak times, like September there is likely to be a backlog. The more you can help us by preparing good quality lists the happier we are to help.
Setting homework
See this link.