01392 690500 (sales only)
Administration
Please note - Google Classroom and Microsoft Teams integrations are now available. Go here if you have already been set up. Go here if you'd like to be set up or you'd just like more information.
All the information below just refers to the standard MusicFirst system. So NOT to MusicFirst Classroom, Google Classroom or Microsoft Teams.
For updating classes at the beginning of a new school year, see Deleting large groups of students and Moving students at the end of the school year at the bottom of this page.
School tools
If you're an administrator or teacher/administrator you'll see the School Tools button at the top of your home screen. The School Tools button is where you go to add teachers, students, etc.

See lower in this page for how to add large groups of students
Adding individual students (or small numbers).
You'll need to set up classes first if you haven't already done so, otherwise you won't be able to attach the new student to a class. To set up a new class, click on Your Classes + Add
To add individual students, click on Your Students + Add
Setting up Year Groups
This is optional, though it will be very useful if you have the Pro version of Focus on Sound. By year groups, we mean the age groups. In England it's usually Year 7 for the first year in secondary school, etc. Scotland and other countries use a different system.
Here's where you add the year group (via Your Classes). You can also add the year group as one of the columns in batch student import (see lower on this page):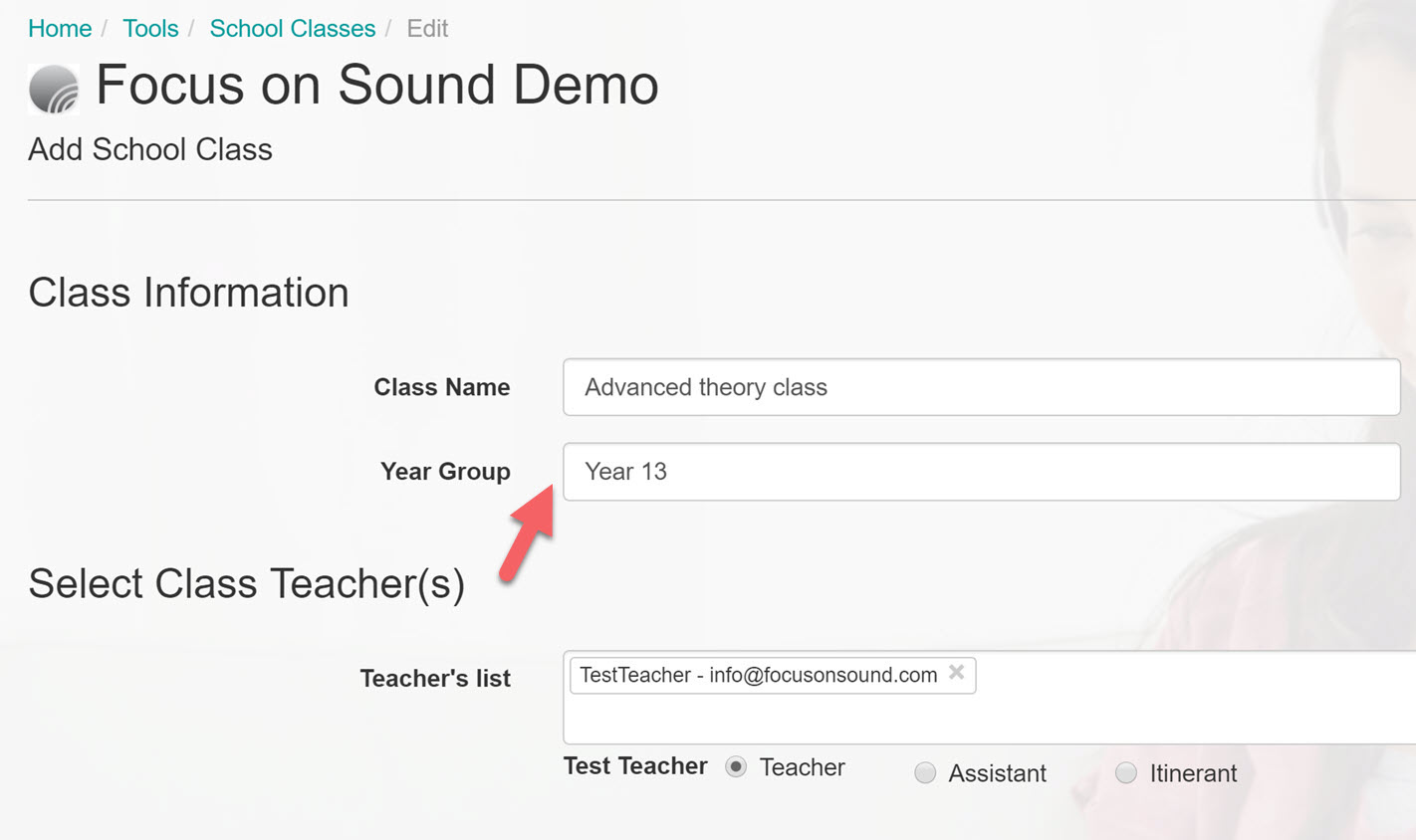 Adding teachers to classes
Administrators (set up by us) view all class results
Teachers (set up by administrators) view classes they have been assigned to by the administrators
You generally wouldn't set up your classes first. You'd do it via the student batch upload (see below).
Once you have set up a class, here is how you attach teachers to classes: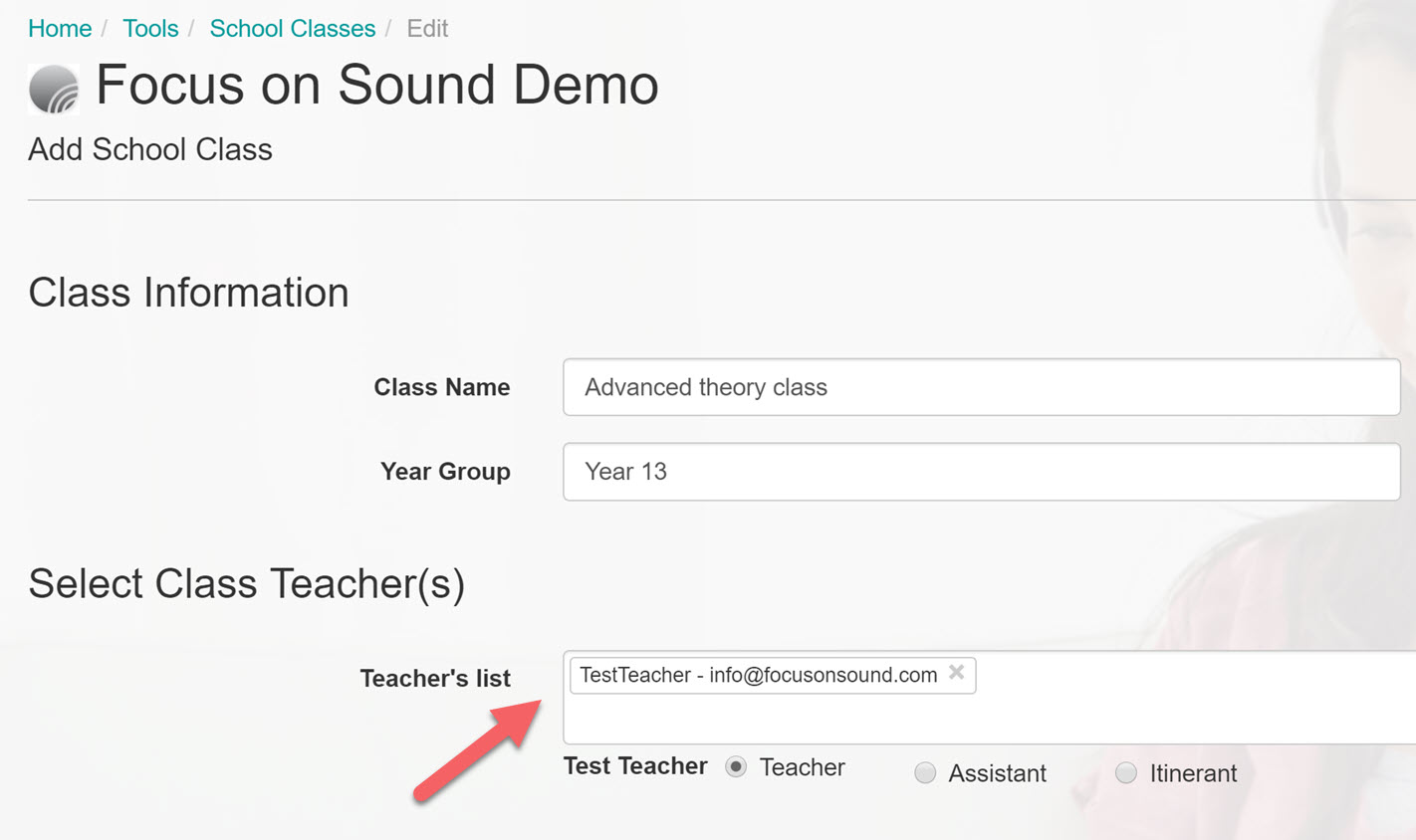 Preparing lists of students for Focus on Sound 'batch import'
You'll need a list of students to add to the software. The MusicFirst system makes it easy to upload batches of students. You can make a single list of all the students you want to have access, then add them all in a single operation.
Please follow the link below to our special page on this topic.
There's a new video - 1st May 2020
How to prepare a school list data file for adding to Focus on Sound
Uploading lists to the software
Please follow the link below to our special page on this topic.
How to upload student lists to Focus on Sound (via the MusicFirst Application Cloud)
Deleting large groups of students
The quickest way to delete a whole year group is to go to the Students menu.
Use the Class search box to find all classes containing a particular number e.g. 7
Click in the tick box on the left to select all the students in these classes
Select Delete user from the section in the top right
Click Apply - all those students will then be deleted from the system

You can delete all the students in your school if you want. This is often the easiest way of starting a new year. To do that, don't do any search, just click in the tick box on the left to select all the students, then delete them all.
Moving students at the end of a school year
Go to the Classes menu.
To delete a whole class (e.g. a class that has left), select the class and click on 'Delete class and/or students'. You can then delete the whole class, including all the students and the class name - or just delete the students, leaving the class where it is.
Then you can move students into the empty class (or move them in any way you like) by choosing the class you want to move them from and clicking the 'Move Class Students' button. Choose the class you want to move them to. You can select individual students or a whole class.