Logging on
Users of MusicFirst Classroom and Rhinegold Education Online Music Classroom should go here
Stand-alone - not MusicFirst Classroom or Rhinegold Education Online Music Classroom
You'll need the domain name we sent you, together with your username and password. Please note that the password is case sensitive.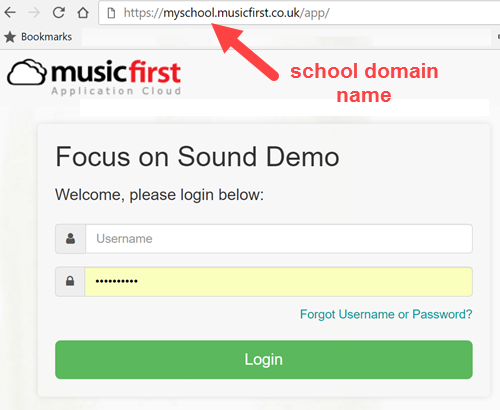 Can't log on?
Check these details (99% of login problems are caused by one of these issues):
Have you got the correct URL (web address)? If you're a UK user and the web address you are using ends with musicfirstappcloud.com or .uk, you have the wrong address. It must end with musicfirst.co.uk Check the details we gave you.
The address will look something like this: https://myschool.musicfirst.co.uk or if you have to type, enter e.g. myschool.musicfirst.co.uk
Is your username and password correct? Remember that the MusicFirst password is case sensitive. If you miss out the required capital letter or lower case letter, logging on won't succeed.
The address must begin with https:// (not http). The 's' stands for 'secure'. There's no 'www.' in the URL.
You can leave out the https:// entirely if you're typing it in. But ideally, never type it in (see below). Teacher/admins can log on direct from the email we sent.
International users have their own separate suffix,depending on the country, e.g. .com
If you're a school teacher please ensure IT has set up a link so that students don't have to type in the URL. If users type in the wrong address the browser may remember the wrong URL and logging in will fail.
There is no mobile app yet. You need to use a browser always, e.g. Safari on iPad/iPhone or Chrome on Android.
If you've checked the URL and the username and password and still can't log on, you can email us at help@focusonsound.com
Lost password (students)
You'll need to ask your teacher, who can either tell you the password or reset it for you. Teachers - to reset a student password, find the student's name in the list of students (using the search function). Click on the pencil edit button. Click change 'password'.