(0)20 3929 9046 (sales only)
Logging on
Logging onto Focus on Sound using the new portal
All users go to https://portal.focusonsound.com
Password issues? If you're not using Google Classroom or Microsoft Teams to log in, go here.
It's a good idea to save the address as a favourite. Better still your school site will have a link.
You will then be asked to search for your school name.
In the example, a student is searching for Theale Green School in Reading, UK.
Just typing the first four letters of the school name will be enough to find it: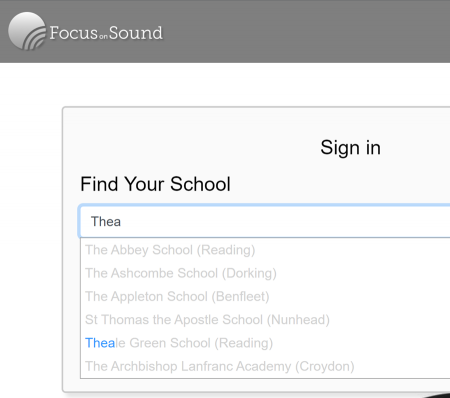 Click on the school name and the whole school name box will be filled in.
You could also search for your town/city and a list of schools in that area will appear.
Click Log in. The school name will be remembered for that user.
Username/password
You will be asked to type in your username and password.
Microsoft Teams - more information here
Google Classroom - more information here
New Focus on Sound system - see below
Focus on Sound Admin system (if you're not using Teams or GC)
Important! The MusicFirst login system is no longer used for Focus on Sound. To start with only the main school teacher/admin contact will have the new login credentials
All students and teachers will be set up with usernames and passwords by the school teacher/admin.
If you're the main contact and can't find the automated email with instructions, please check for an email from noreply@mailout.focusonsound.com. If you can't find it, try looking in your Spam/Junk box. The password (and often the username) will not be the same as for the old MusicFirst login. Email info@focusonsound.com if you are the teacher/admin and can't find your credentials.
All users will be asked to change their password as part of their first logging on process.
Further details of the new admin system are here
Password issues? Go here.