01392 690500 (sales only)
Logging on
Safari users - if you possibly can, please change to Chrome. You'll find that audio and video load much more quickly.
Users of MusicFirst Classroom and Rhinegold Education Online Music Classroom should go here
All other users: you'll need the domain name we sent to the music teacher, together with your username and password. Please note that the password is case sensitive.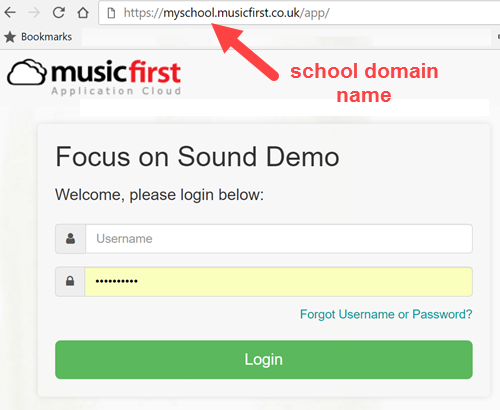 Can't log on?
Check these details (99% of login problems are caused by one of these issues):
Have you got the correct URL (web address)?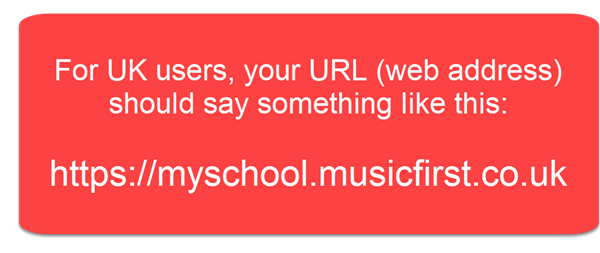 Here are some typical UK addresses:
https://stjameshigh.musicfirst.co.uk
https://st-jamesderby.musicfirst.co.uk
https://clarendon.musicfirst.co.uk
https://sbsh.musicfirst.co.uk
If you are typing into the address bar because your school hasn't given you a link, you don't need to type the https:// bit.
We generally use the standard web address of the school, unless there are lots of schools with the same name.
IPad, iPhone and Android users can use the software in a browser - or go here for info on logging on to our apps.
If it just says 'Login' at the top, you have the wrong URL (web address).
If you're sure you have entered the correct URL and you are in a school, the school may be blocking one of the access sites.
See unblocking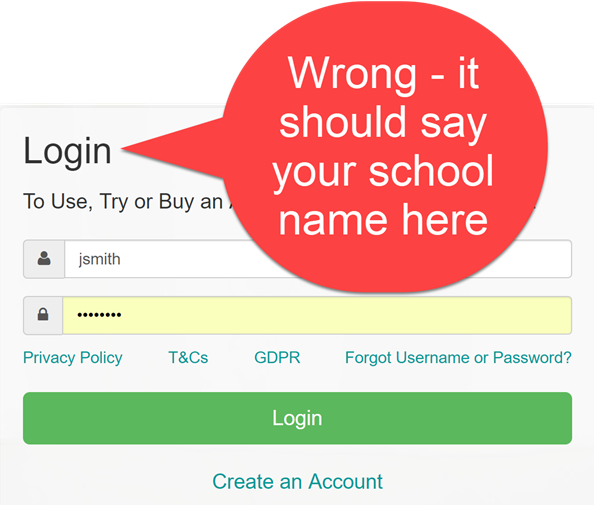 The URL must include your school name (often abbreviated)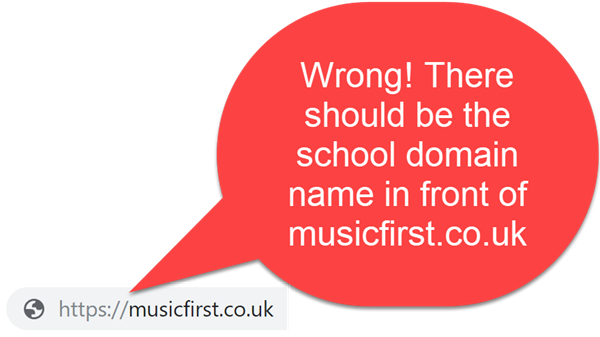 Please don't add 'www.' in the URL. It won't work if you do.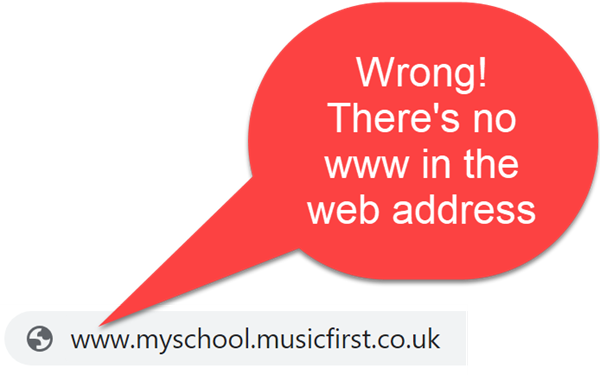 Ideally, never type a URL.
Your school should set up a link for you to follow. Or at least keep the link in your favourites.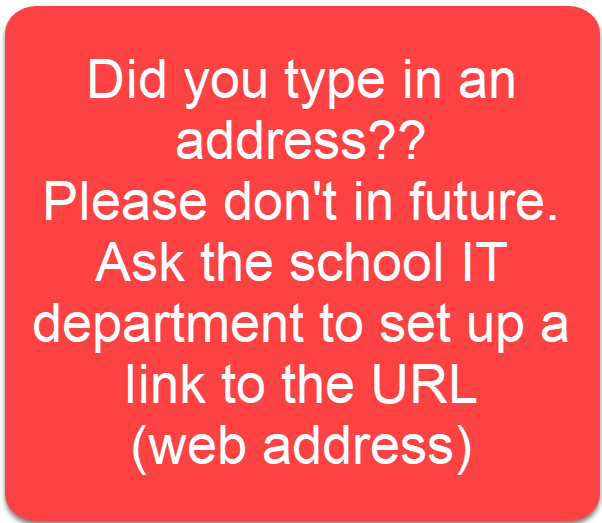 Passwords are case sensitive.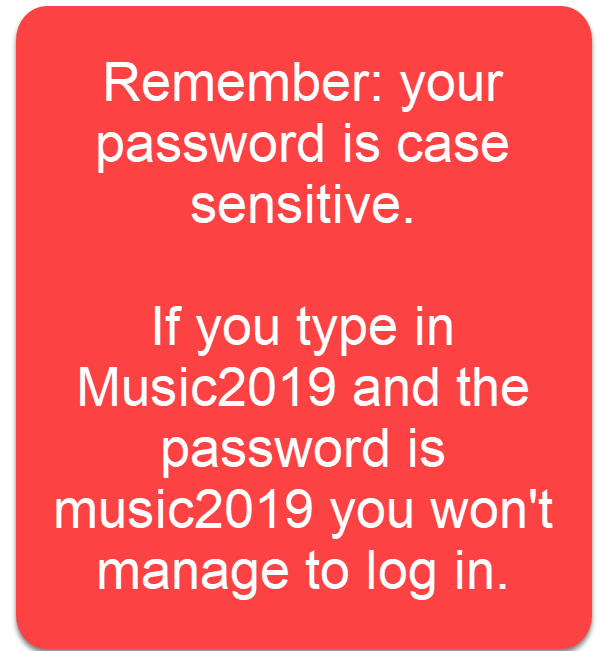 Here's a summary of what you need to remember:
If you're a UK user and the web address you are using includes 'musicfirstappcloud', you have the wrong address. It must end with musicfirst.co.uk with the school domain name you have been given in front, e.g. myschool.musicfirst.co.uk. Check the details we gave you.
There's no 'www.' in the URL

The address will look something like this: https://myschool.musicfirst.co.uk or if you have to type, enter e.g. myschool.musicfirst.co.uk
You can leave out the https:// entirely if you're typing it in. But ideally, never type it in (see below). Teacher/admins can log on direct from the email we sent.
International users have their own separate suffix,depending on the country, e.g. .com

Is your username and password correct?

The MusicFirst password is case sensitive. If you miss out any required capital letter or lower case letter, you can't log on.

For users of iPads, iPhones and Android devices, there are now apps on the App Store and Play Store. You will be asked for your school ID. See this page for instructions. You can also use the browser - we recommend Chrome.
If you're a school teacher please ensure IT has set up a link so that students don't have to type in the URL. If users type in the wrong address the browser may remember the wrong URL and logging in will fail.
If you've checked the URL and the username and password and still can't log on, you can email us at help@focusonsound.com
Lost password (students)
You'll need to ask your teacher, who can either tell you the password or reset it for you. Teachers - to reset a student password, find the student's name in the list of students (using the search function). Click on the pencil edit button. Click change 'password'.