User page
The page for people already using the apps - login information, instructions, help
MusicFirst online classroom users should go here
Stand-alone Version
The instructions below refer to the logging on method via the MusicFirst Application Cloud (MFAC). If you haven't received instructions or need more advice, please email us at help@focusonsound.com
Here is a quick start guide.
We're happy to help you with adding student lists - if we have time.
Logging on (stand-alone - not MusicFirst Online Classroom)
You'll need the domain name we sent you, together with your username and password. Please note that the password is case sensitive.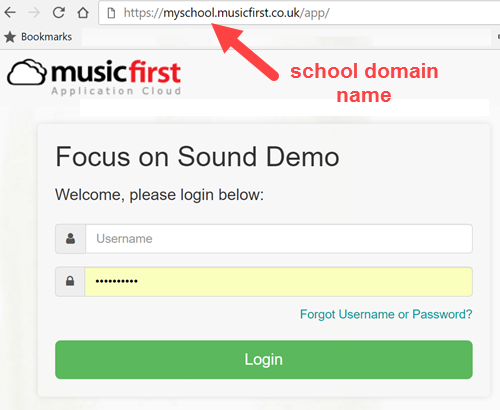 Can't log on?
Check these details (99% of login problems are caused by one of these issues):
Have you got the correct URL (web address)? The address must begin with https (not http). The 's' stands for 'secure'. There's no 'www.' in the URL.
You can leave out the https:// entirely if you're typing it in.
The address will look something like this: https://myschool.musicfirst.co.uk or just type myschool.musicfirst.co.uk
International users have their own separate suffix,depending on the country, e.g. .com
If you're a school teacher please ensure IT has set up a link so that students don't have to type in the URL. If users type in the wrong address the browser may remember the wrong URL and logging in will fail.
Is your username and password correct? Remember that the MusicFirst password is case sensitive. If you miss out the required capital letter or lower case letter, logging on won't succeed.
There is no mobile app. You need to use a browser always, e.g. Safari on iPad/iPhone or Chrome on Android.
If you've checked the URL and the username and password and still can't log on, you can email us at help@focusonsound.com
Admin
If you're an administrator or teacher/administrator you'll see the School Tools button at the top of your home screen. The School Tools button is where you go to add teachers, students, etc.

Two Views
Why do I see this at the top right of Focus on Sound?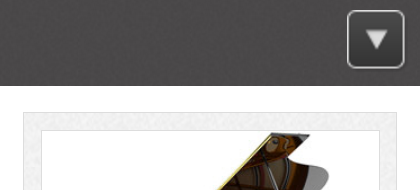 Instead of this?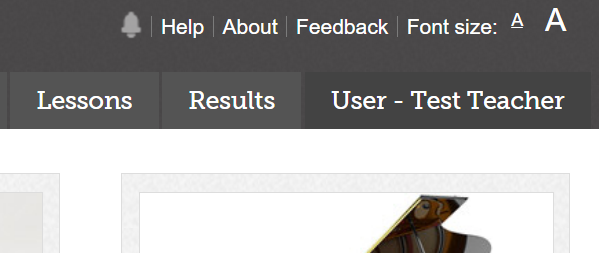 The reason is screen size. We have a smaller version of the screen for iPads, etc.
Here are the reasons you might see the cut-down version on a computer screen:
You are using a very old monitor (1024 pixels width). This monitor size still works well but to save screen space you need to press the down arrow to get to the other buttons.
You have reduced the width of the window you are using. Maximize the window.
You are using a projector with a low resolution. Speak to your IT department. The software will still work though, using the down arrow.
Unblocking our sites:
It's very unlikely the school will block our material. If you experience problems accessing our resources you may need to unblock our sites for students in your school. We suggest emailing help@focusonsound.com
Unblocking won't be necessary at home, and generally won't be necessary for teachers on school premises. If you're experiencing problems with logins, and you've checked all the possible solutions mentioned above, ask your IT person to unblock the following:
https://soundwords.server1.apps.focusonsound.com
https://instruments.server1.apps.focusonsound.com
(For Australia/New Zealand please change server1 to server2)
You may also need to unblock the special domain we have set up for you - something like:
https://myschool.musicfirst.com (or .co.uk, .com.au, .co.nz, etc.)
The software also has optional embedded YouTube videos. If you want to use these you'd need to ensure YouTube is unblocked from the computers you're using. We often find that teachers are able to use these but students aren't.
Adding individual students (or small numbers).
You'll need to set up classes first if you haven't already done so, otherwise you won't be able to attach the new student to a class. To set up a new class, click on Your Classes + Add
To add individual students, click on Your Students + Add
Adding teachers to classes
Administrators (set up by us) - View all class results
Teachers (set up by administrators) - View classes they have been assigned to by the administrators
Here is how you attach teachers to classes: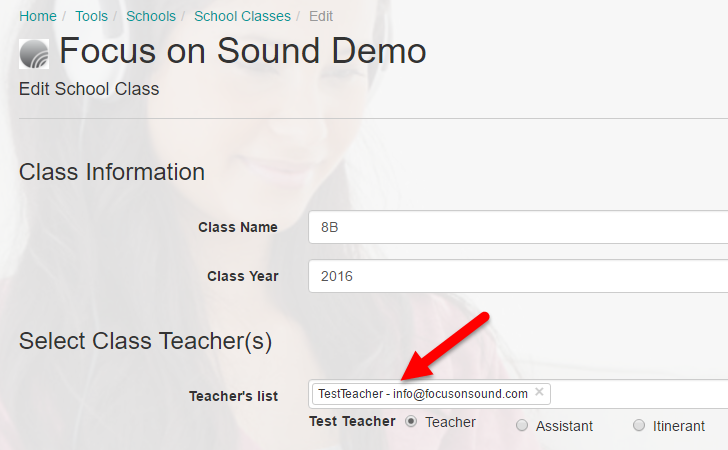 PLEASE NOTE, YOU CAN USE A MICROSOFT WORD TABLE IF YOU HAVE TO, BUT A LIST OF DATA IN WORD, WHERE YOU'VE USED TABS INSTEAD OF A TABLE, IS UNUSABLE.
Lost password (students)
You'll need to ask your teacher, who can either tell you the password or reset it for you. Teachers - to reset a student password, find the student's name in the list of students (using the search function). Click on the pencil edit button. Click change 'password'.
Where to find student results
Results are found on the main app page, not on the admin pages. If you're using the stand-alone software, you may need to log in via the User tab if your name doesn't appear at the top right.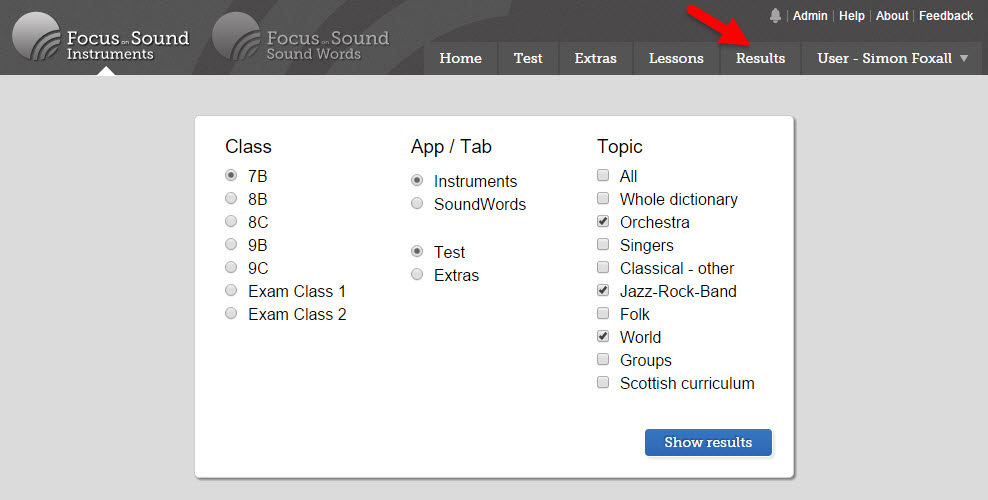 Lesson results
The quickest way to see results for an individual lesson is to use the button shown below. You'll find it at the beginning of a lesson.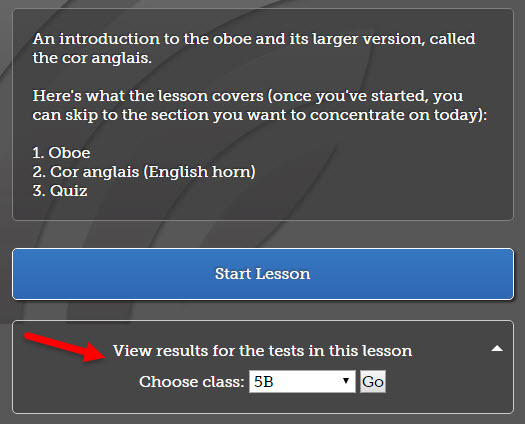 There are four places in the main results table where results are found:
Instruments - Tests (randomised 20 questions)
Instruments - Extras (fixed, variable question number)
Sound Words - Tests (randomised 20 questions)
Sound Words - Extras (fixed, variable question number)
If students are doing one of our 'lessons', the best place to find the results is under the Start Lesson button (see above).
Setting homework
You need to give students at least two links, one to the logon for your school, e.g. https://myschool.musicfirst.co.uk and one or more to the page(s), tests, lessons, etc. they need to study, e.g. https://instruments.server1.apps.focusonsound.com/dictionary/orchestra#Flute
They need to log on first before opening the links.
Moving students at the end of a school year
Go to the Classes menu.
To delete a whole class (e.g. a class that has left), select the class and click on 'Delete class and/or students'. You can then delete the whole class, including all the students and the class name - or just delete the students, leaving the class where it is.
Then you can move students into the empty class (or move them in any way you like) by choosing the class you want to move them from and clicking the 'Move Class Students' button. Choose the class you want to move them to. You can select individual students or a whole class.
(or via in app Help)