01392 690500 (sales only)
Updates, Extensions and Improvements to End March 2019
We work hard to eliminate any bugs, retrieve missing pages etc. as we continue to improve the product.
New lessons and tests
Focus on Sound continues to be updated every week with new material and enhancements.
There are now lessons on two of the AQA Beatles songs. The third should be complete by April 2019.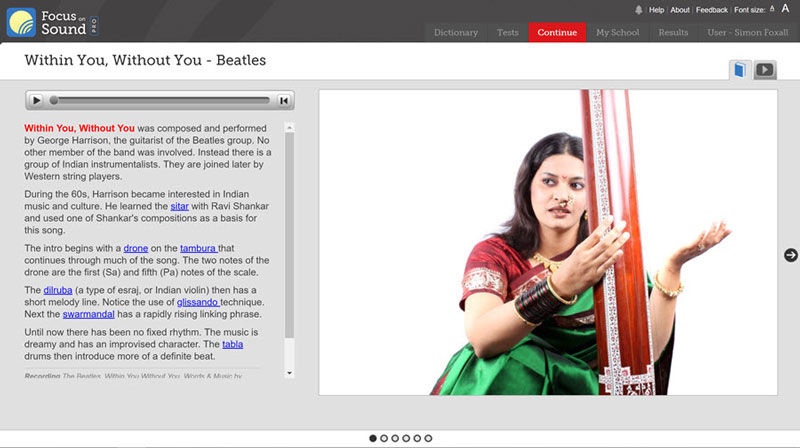 We now have a new type of drag and drop answer panel test (see below)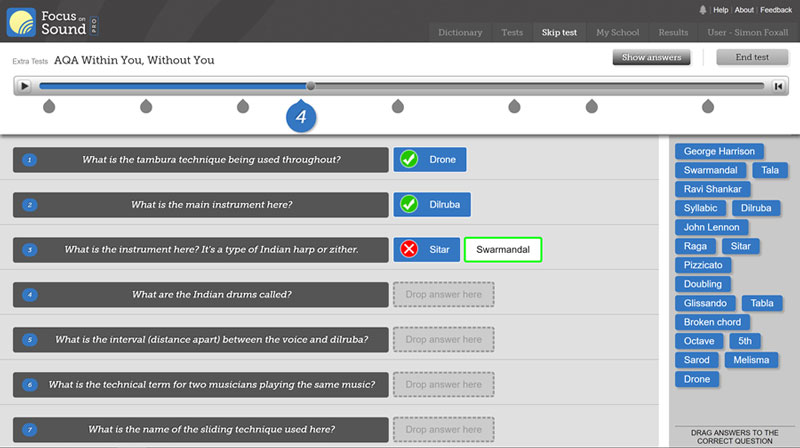 This test is also available as a custom test you can create yourself in FoS Pro. It's very quick to do. You set a single audio and a series of questions. Then Focus on Sound automatically randomises the answers and puts them in a panel on the right.
There are now tests on the bass clef, as well as a whole series of new aural tests identifying melodic and rhythmic fragments. These include 5 note phrase recognition in major and pentatonic modes as well as simple rhythms and syncopation.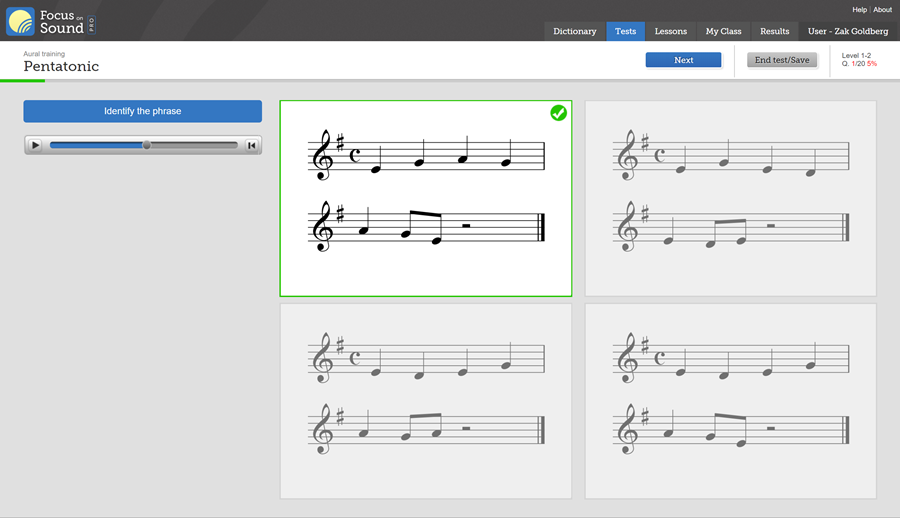 Various revision tests and lessons, including unprepared listening tests have been added in exam board sections.
Custom tests in FoS Pro
We now have five different types of listening test you can create yourself.
Random identification - test identification of any number of instruments or terms from the Focus on Sound dictionary. Perhaps your own selection of rock instruments or advanced rhythmic features. The test takes only a few minutes to create.
Timeline tests - create a test with a single audio. Question number bubbles appear along the timeline. Very simple to create.
Timeline tests with drag and drop - very quick to create - see the Beatles example above
Discussion/writing tests - create tests requiring extended typed answers - or for discussion in class. Use a single recording or YouTube video. Or you can compare two recordings or compare two YouTube videos.
Single audio/single picture tests - ideal for creating GCSE/A level tests with a page of notation. You can even create your own gap-filling exercise.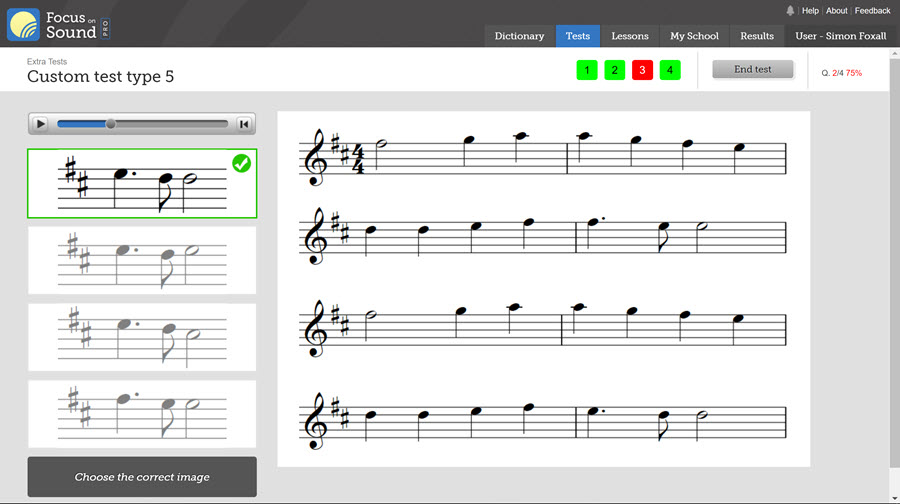 Updates, Extensions and Improvements 2017-18
Our new Pro version lets you create your own lessons, content and tests - and assign work to individual classes.
Here are some of the bigger changes and updates we have made:
Additions (April 2018)
Killer Queen, Afro Celt Sound System - Release, Star Wars, Samba em Preludio and Defying Gravity study pieces (Edexcel are now available. For AQA we now have Blues history and a large section on popular styles and extended listening. There are new OCR lessons on film music and the classical concerto. Several Advanced Higher lessons are now on the site (making 67 SQA lessons altogether!). Plenty more study piece coverage is on the way.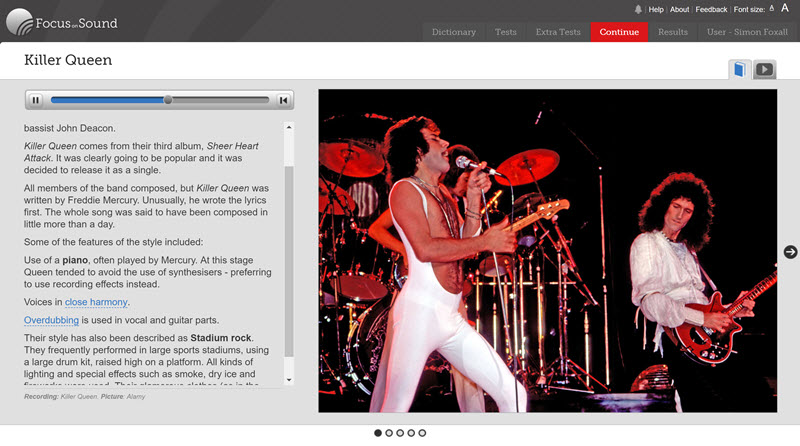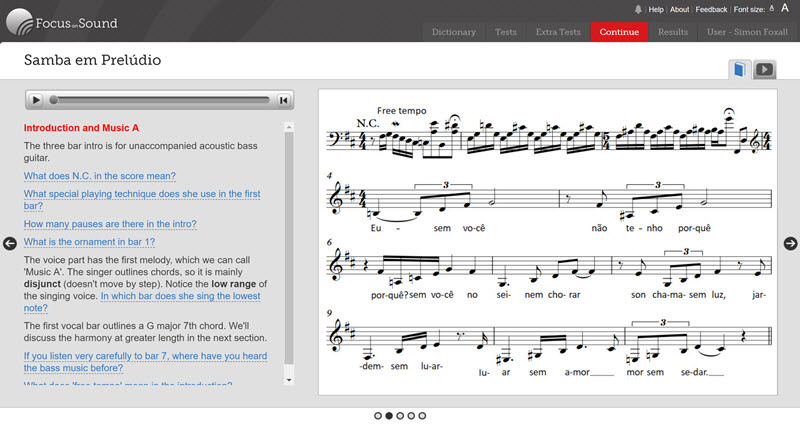 New listening tests
We now have a set of three tests with 8 questions each, ideally suited to exam preparation and revision. UK exam boards all require fill in the gaps style notation dictation exercises. Here are two example questions: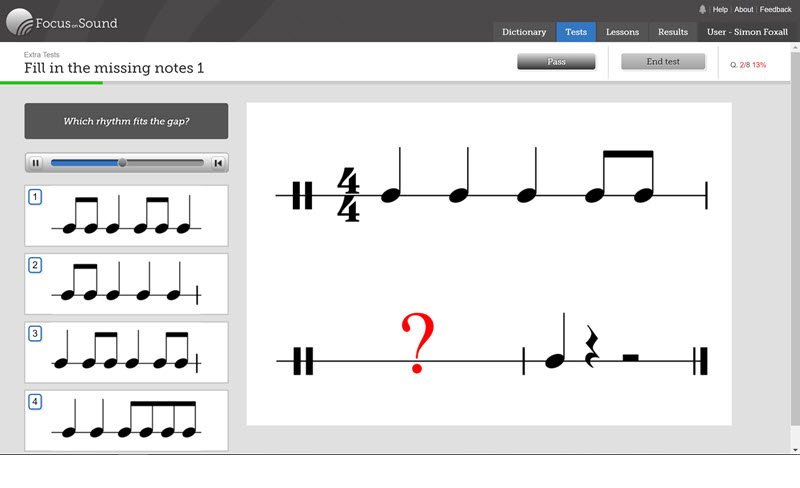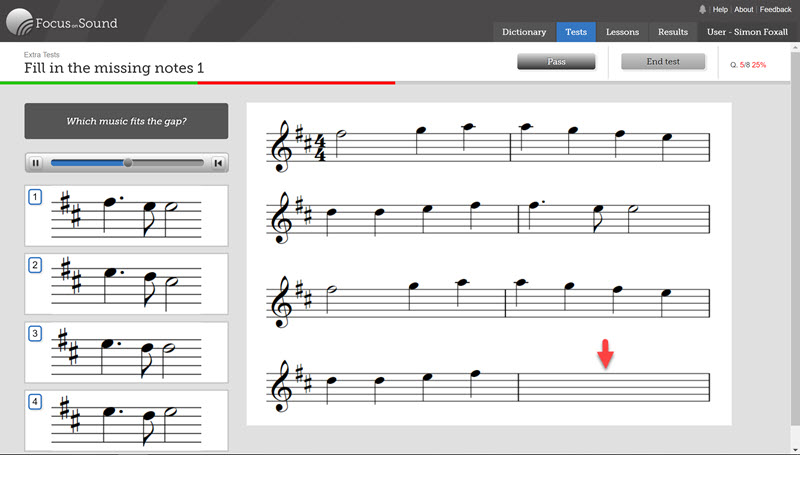 Have you seen our new product for younger users? Instruments First
Merging of tests and extra tests
All tests now appear under the same tab.
Additions Spring 2017
Custom lessons
Teachers can now create their own custom lessons (see below)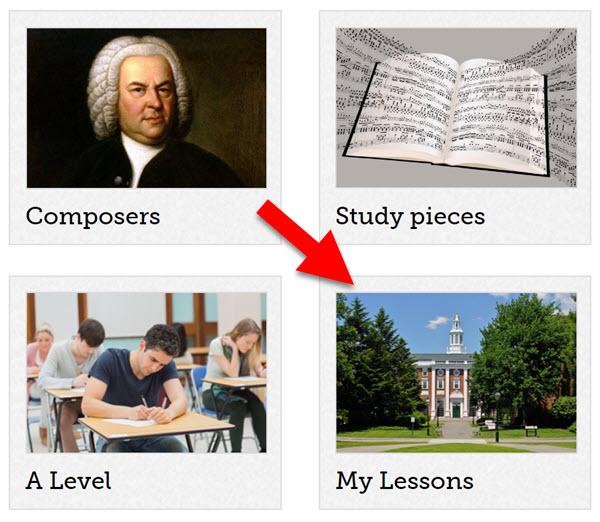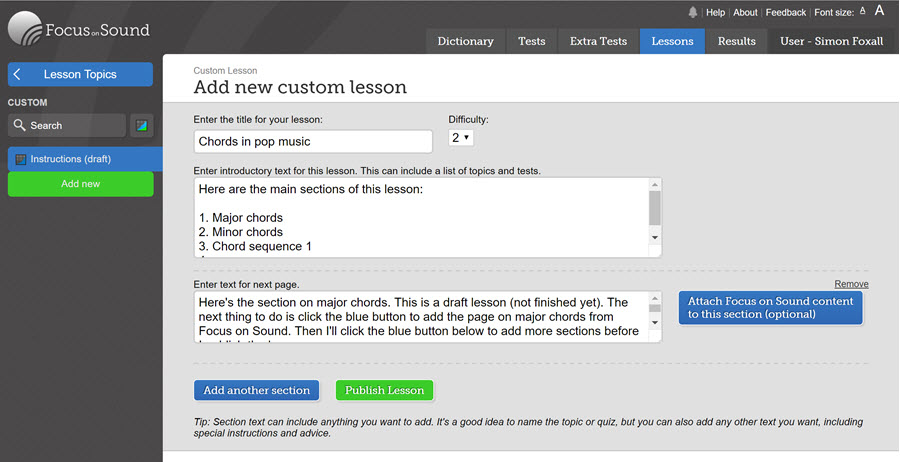 This is part of a major new facility which will eventually include custom test creation.
Please note, there will be a small extra charge for this facility.
Grading written work
Teachers can now mark extended written work (see below)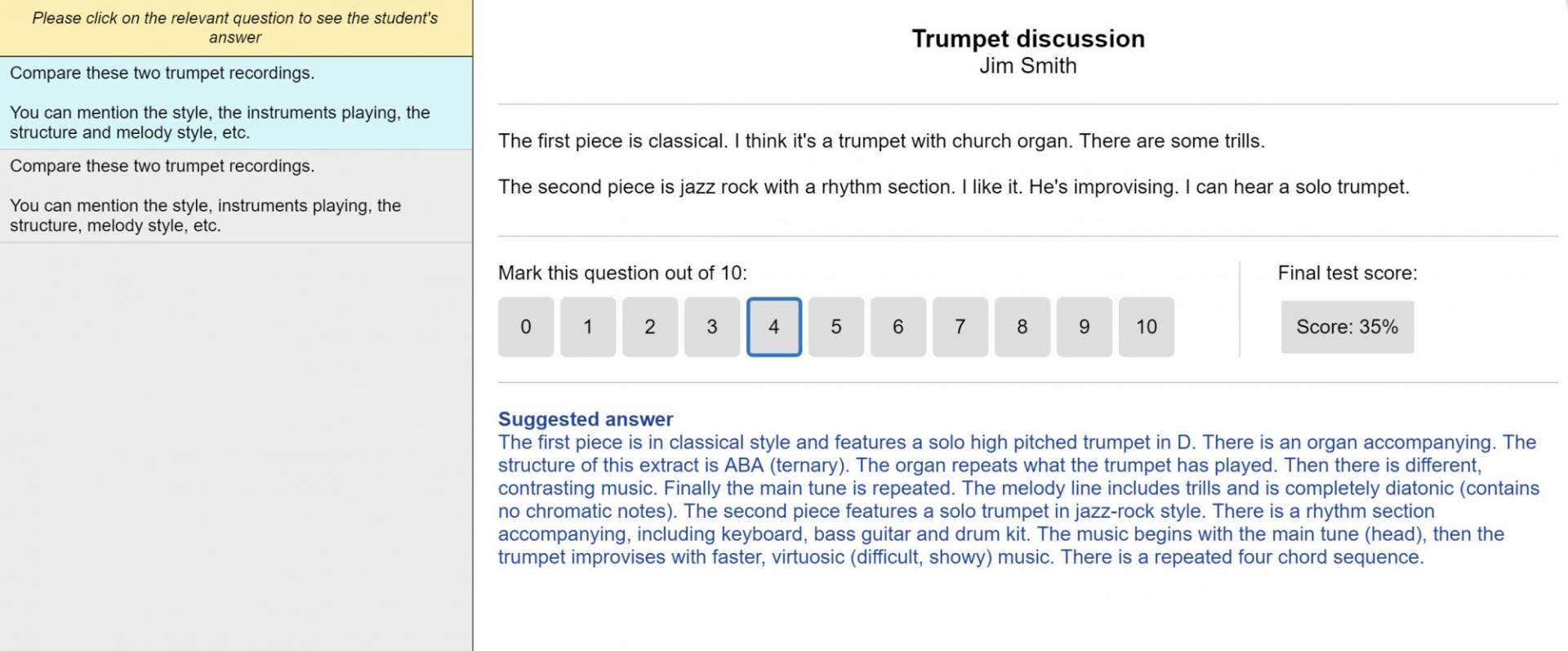 The percentages show up on the results page like this: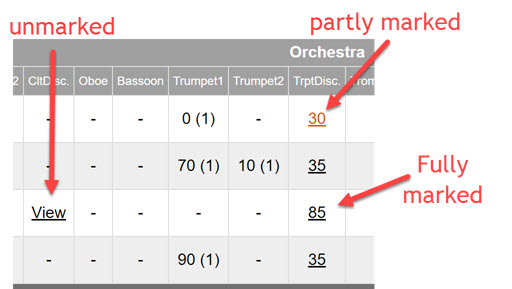 Technical improvements
Blocking- some school security systems were preventing access to lessons for students. YouTube blocking was also causing problems elsewhere in the software. We have now fixed these problems.
Sound - we have updated our sound player. This means that most sound drop-out problems have been eliminated.
This was a particular problem with slow internet speeds and for countries some distance from our servers.
Study pieces and composers
We have added numerous study pieces. To start with, these are classical pieces though we will be adding rock and jazz music. There are currently 12 pieces from Purcell to Copland.
UK users can see current exam pieces here.
Tests
We now have nearly 270 of our 'Extras' tests. Details of specific UK content can be seen here. We aim to extend this to IB and other international exam authorities.
There is now a search facility for Extras tests. We hope to have this available soon for the standard Tests.
One of the new test types is what we call a 'vertical' test where a single recording is used for multiple questions (see below).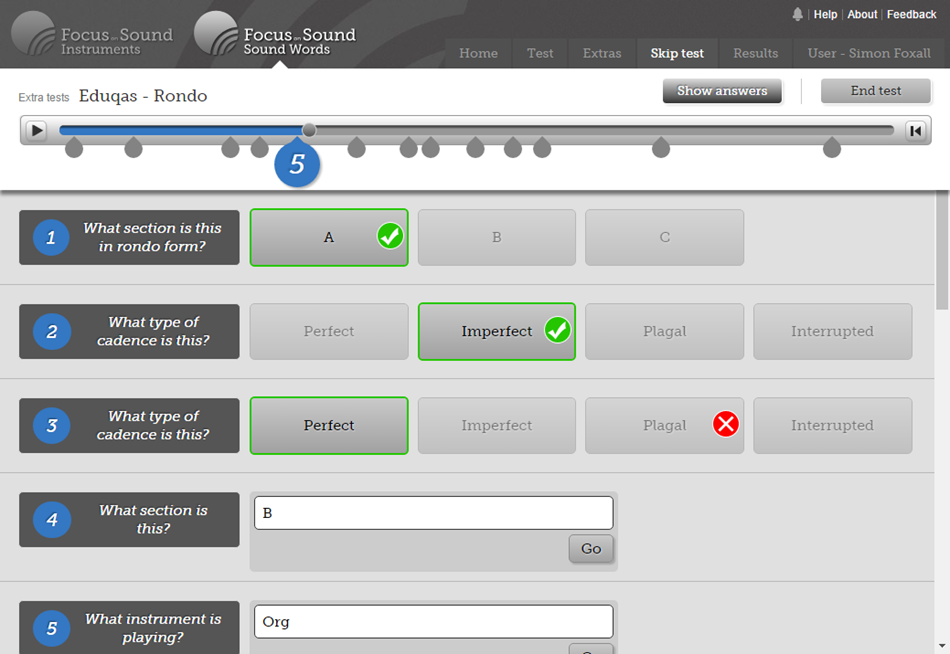 Lessons
There are now 250 of these, including 14 new lessons on music theory. Lessons cover every conceivable area of music, from World music and Music technology to Bach chorales. Here are the first sixteen topic groups. Lessons group together content and tests from elsewhere in the software. For example, an Indian music lessons will include sections on Indian instruments from the Instruments app, and sections on techniques like raga, meend, etc. from Sound Words. Lessons also include listening tests from the Tests and Extras sections of both apps.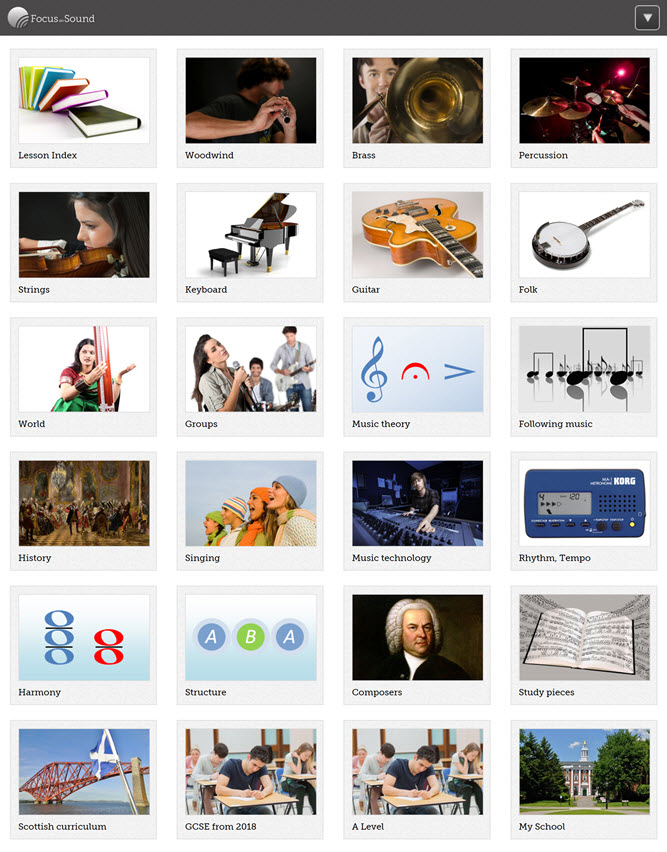 Each lesson contains an assessment. Here's the list of topics in one of the lessons on Indian music. You'll see there's enough for an hour or two's study at the very least.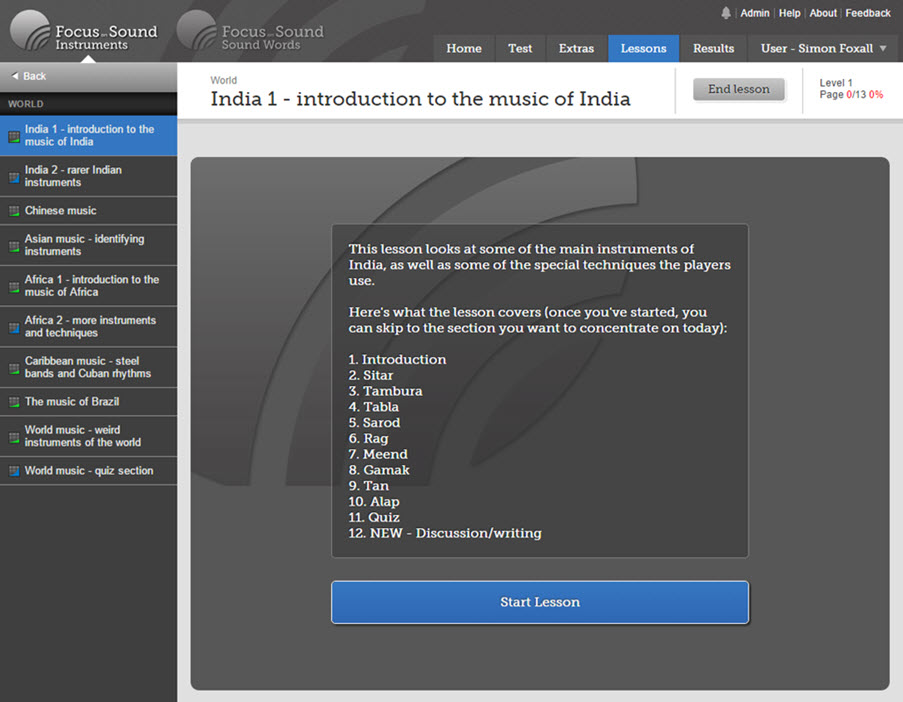 There is now a search feature for lessons.
Lesson results
We now show how many pages a student has seen, as well as test results and actual written work for each student.
Since this video was made we now have a marking system for written work (see below)
Terms and instruments
We continue to add new terms and instruments to the software. Recent additions include mouth music and Scots ballad as well as numerous basic theory items. We have added numerous extra recordings and pictures.
Writing Questions
We've introduced new writing/discussion questions. You can use these for class discussion, or the kids can write down answers. These can then be saved and viewed by the teachers from the results page.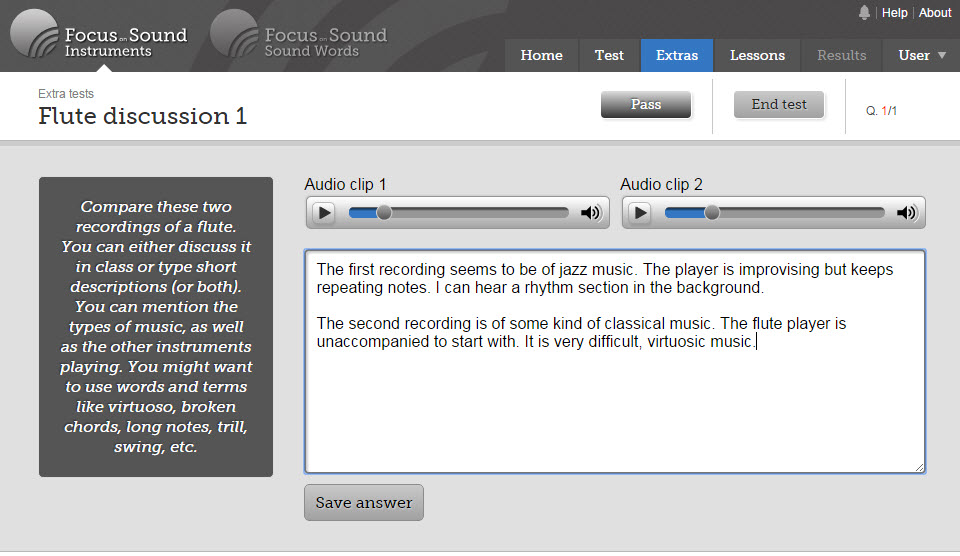 Here's a question type relating to a video: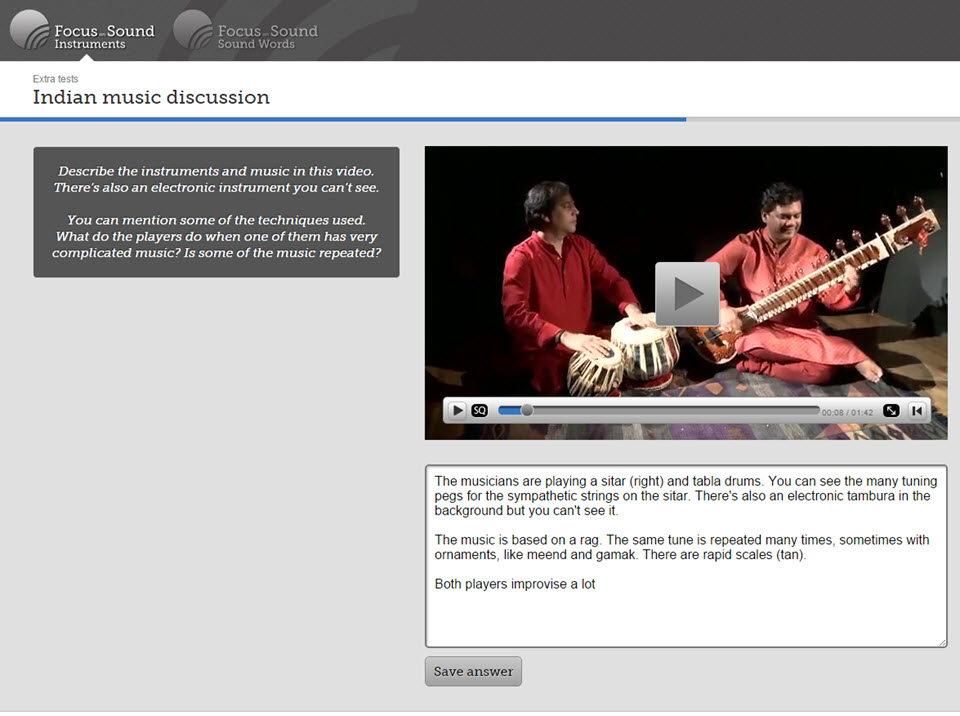 Then the teacher can see what the student has written by clicking 'View' in the relevant Results page.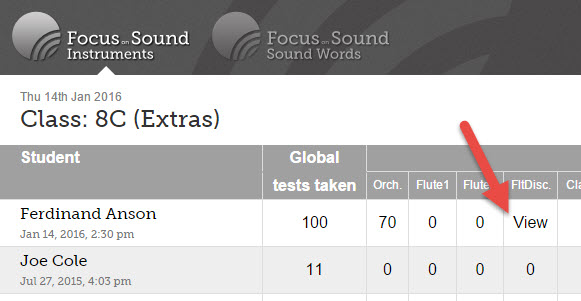 Results
Our results system will soon be available on the MusicFirst Online Classroom.
Meanwhile, we now have a simplified way of getting to the results. As well as choosing the class, you can now choose the testing areas you want to concentrate on.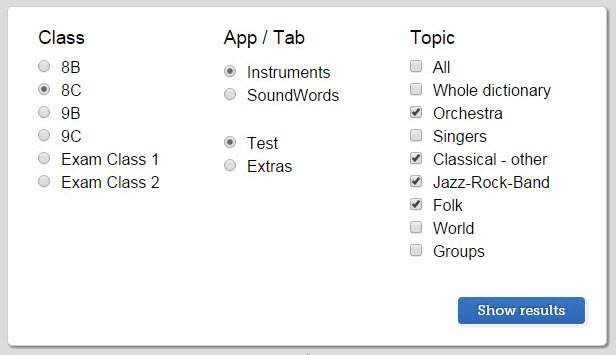 Teachers can also see results directly from the first lesson page. This makes it easier to find those often elusive results, especially when tests span Extras and Tests as well as Instruments and Sound Words.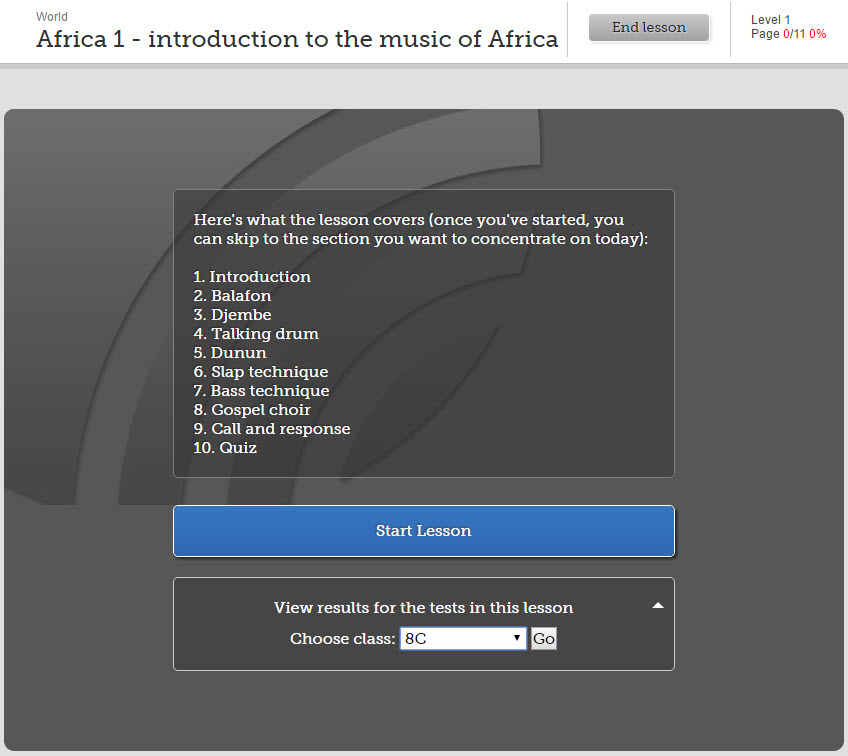 Music technology
One of the biggest developments of 2015 was the inclusion of a new music tech section. This was specially written for us by a top professional film music composer. So far we have 46 pages of information, together with numerous recordings, videos and YouTube links - as well as randomised quizzes, fixed listening tests, etc.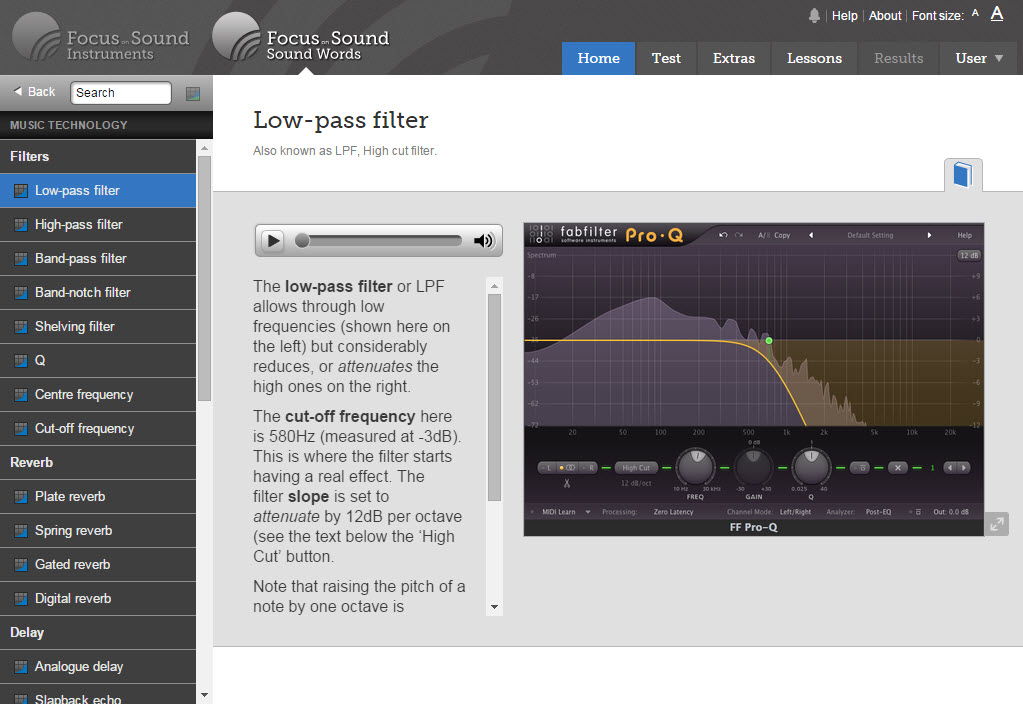 Bug crushing
All software has bugs, whatever manufacturers tell you. We're particularly proud that our software runs on such a wide variety of platforms, including tablets and mobile phones. This does mean that changes in browsers and hardware can very occasionally cause difficulties. We work very hard to eliminate all such problems. Recently we eradicated a bug which caused search to fail in portrait mode on mobile phones and tablets in Sound Words, whole dictionary. We have also speeded up and improved the search facility in general.
We also noticed that some questions in 'Class demonstration mode' were too difficult because we hadn't provided multiple choice possibilities. This situation has now been corrected.
Possibly the hardest part of our job is ensuring all random questions in tests are actually possible to do. As we can't predict the actual questions, there have in the past been occasional situations in Sound Words where the answer isn't easy, even for experts! We have a complex system of allowable combinations and question types per term, and we like to think we have sorted this out.
Just occasionally a media file goes missing. This happened with the fourth trombone picture and recording. These files have now been replaced.