01392 690500 (sales only)
Test results
Results are found on the main app page, not on the admin pages.
You won't be able to see results if you're in a narrow screen, e.g. on a tablet or phone in portrait orientation - or if you have a very low res screen. See screens, fonts, pictures for more information.
To see the full results table go to the results tab: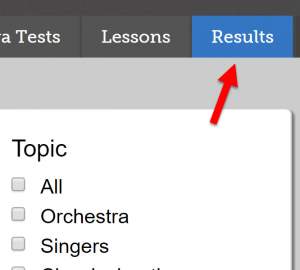 On a tablet the tabs are different. Here's where to find the results: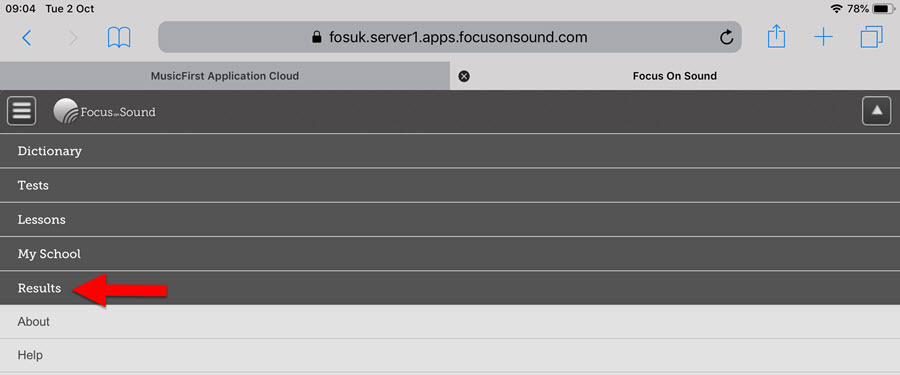 There are two places in the main Focus on Sound results table where results are found:
Instruments - Tests
Sound Words - Tests
Random tests are shown first: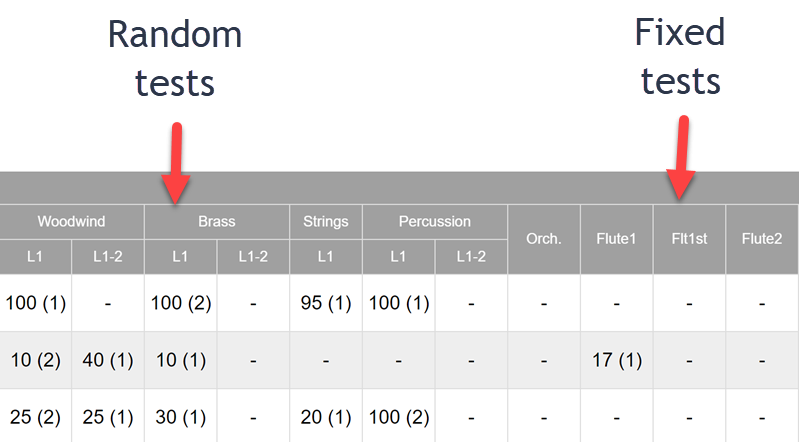 Individual Test Results
It's easier to see an individual test result via the Class test results button on the test page itself (not currently available on a tablet):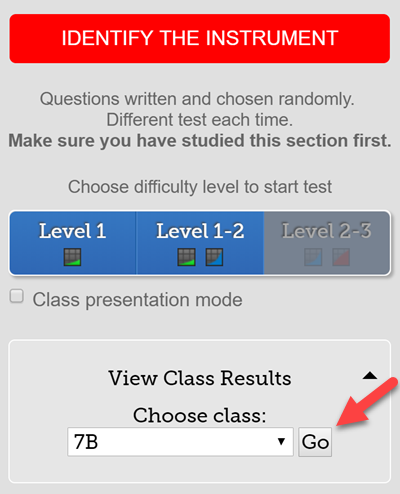 Lesson results
The quickest way to see results for an individual lesson is to use the button shown below. You'll find it at the beginning of a lesson. Again, this view is not currently available on a tablet.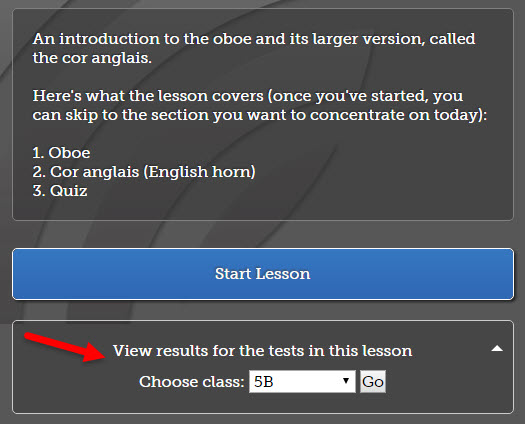 When results are not saved
Results are not saved in these circumstances:
The mark/grade is lower than the previous attempt.
The student is redoing mistakes
Can't find results
Make sure you have refreshed your screen. Results won't appear until you have done so.
Are the students using the correct app? Sometimes a similar test can be found in Instruments First and Focus on Sound.
If you're looking in the main Focus on Sound results spreadsheet, make sure you have chosen the correct app, i.e. Instruments or Sound Words
It's usually much easier to find results by going to the Class results for the individual test or lesson (see above).
Some tests occur in more than one place. This applies particularly to UK exam pieces, which can also be found in Study pieces sections. Students may have done the test from an unexpected place. If the students are told to do a specific lesson, then the lesson results system is the best place to look.
Sometimes a student will forget to log off or close their Focus on Sound window. Then another student ends up doing a test with the previous student's logon. Please make sure students always close down their Focus on Sound windows when they have finished.